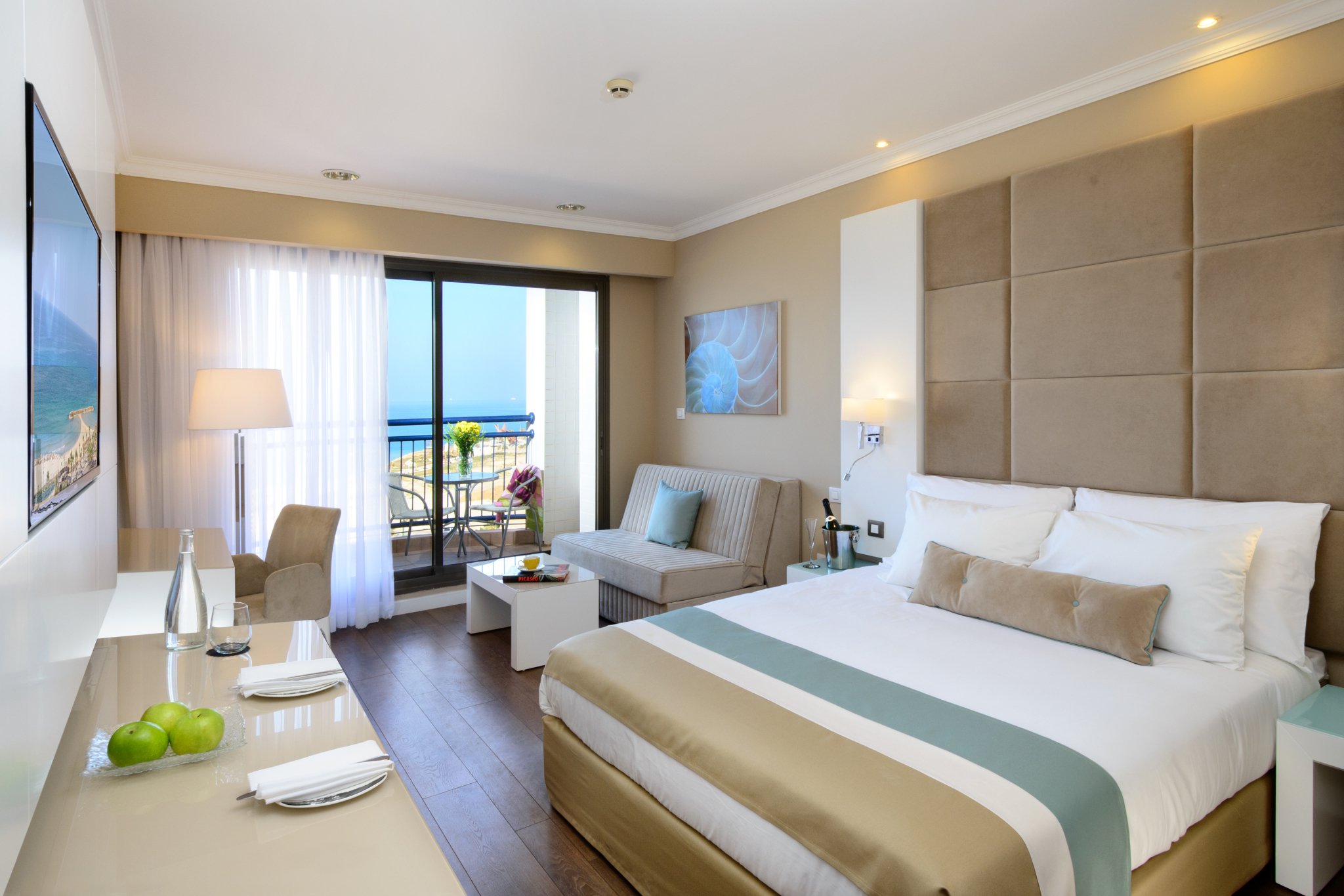 Hotel Info
Golani Street 11, Ashkelon, Israel, 7848011 Ashkelon
Superb beachfront location, overlooking the marina
View map
Amenities
Free Wi-Fi
Restaurant
Spa
Swimming pool
Gym
Air-conditioning
Welcome Baby
Business lounge
About the hotel
Leonardo Hotel Ashkelon blends modernity with Mediterranean magic. The sea views are as captivating as the sophisticated décor – either from inside any of the 131 rooms or from their private balconies because the hotel is right across the Marina of Ashkelon.
The hotel aims to satisfy the modern business traveler who enjoys mixing business with pleasure – therefore it is suitable for couples and families traveling with children. Guests can enjoy air-conditioning in every room and free Wi-Fi throughout.

At the hotel, an exclusive business lounge, fitted with all the latest technology for work and meaningful collaboration between peers, provides individual services for each guest and is only available to business people visiting Leonardo Hotel Ashkelon. The lounge complements the full business center, which encompasses four conferences and events halls, of which the largest can welcome 1200 attendees in an elegant and refined environment.

For leisurely moments, the hotel's outdoor pool provides a blissful environment with spectacular views of the Mediterranean Sea. The spa has a wide range of indulgent treatments and massages, plus a hot tub, sauna, and a fully equipped gym. And the little ones can enjoy boredom-free moments with games and hands-on activities in the on-site children's club.
The buffet-style breakfast menu is shaped by the seasons and by the Mediterranean flavors. It's a refreshing display of salads, savoury specials, dairy products, fresh fruit, and sweet treats, with vegan-only, vegetarian, gluten-free, and lactose-free specials on demand.

Leonardo Hotel Ashkelon offers a rounded lifestyle experience with all the necessary services and facilities for a stress-free stay. There's free parking indoor and outdoor, free international phone calls for, and an onsite synagogue for the observant guests.

The location of the hotel makes it easy for guests to access the beach, the promenade, and the marina, as well as many shops and restaurants nearby. Other recommended attractions close to Leonardo Hotel Ashkelon include the 13th-century Tomb of Sheikh Awad and the Ashkelon National Park with its Canaanite earth ramparts and ancient ruins that document the history of the city.
We welcome you back! Get informed about specific requirements needed to check-in in this property, such as a negative covid test result, vaccine pass, etc. For further information, please contact directly the hotel upon arrival.
Together we fight the virus: This hotel is currently taking additional measures to help protect the safety of guests and staff. Certain services and amenities may be reduced or unavailable as a result. For further information, please contact the hotel upon arrival.
Hotel Gallery
1 / 31 | Leonardo Hotel Ashkelon - Sea View Rooms
Rooms
A beachfront spa hotel Leonardo Ashkelon is as pampering as it gets. All its 130 rooms are decorated in natural tones that soothe and inspire relaxation and come with the right courtesy perks for a stress-free stay: air-conditioning, Wi-Fi, coffee and tea kits with premium blends, toiletries, and plush bathrobes and slippers. All rooms have balconies overlooking the spectacular azure of the Mediterranean Sea and Ashkelon Beach.
Book Direct And Get 10% Off
Join Leonardo AdvantageCLUB today, it's easy and free!
Start earning now and collect points for free stays in one of our Leonardo Hotels.
Good to Know
Check-in:
Sun - Fri: 3:00 pm Sat and Jewish Holidays: 6:00 pm
Check-out:
Sun - Fri: 11:00 am Sat and Jewish Holidays: 4:00 pm
Pets are not allowed - guide dogs only
Services & Activities
Breakfast buffet

Lobby bar
Outdoor pool

- seasonal (The swimming pool is closed from November to April)

Kids pool

Gym

Massage & beauty treatments

Spa

Sauna

Hot Tub

Kids club

Youth club
Currency exchange

Synagogue
EXPLORE Leonardo Ashkelon
Transportation
Ashkelon Station - Israel Railways
6.5 km
Ben Gurion International Airport
64.0 km
Highlights
Ashkelon National Park
2.0 km
Companies / Exhibition grounds
South Industry Zone
7.2 km
North Industry Zone
7.5 km
Restaurants and Bars
Guests of Leonardo Ashkelon Hotel can expect a culinary experience. Enjoy the main restaurant's rich meals and sit down for a drink or a snack at the Lobby Bar. Both the restaurant and the bar are kosher
Almog Restaurant
Begin your day with a rich dairy buffet. Enjoy a cup of coffee as well as a selection of cheeses, pastries, salads, and quiches. During lunch and dinner, the restaurant serves fish, meat and vegetarian main courses as well as side dishes and desserts. The kitchen staff places special emphasis on using top-quality and seasonal ingredients. Guests can expect Israeli flavors as well as international favorites
Lobby Bar
The Lobby Bar is the place to enjoy hot beverages, alcoholic drinks, and light meals. Guests will enjoy the inviting atmosphere, chill-out music, and friendly service. This is the perfect place to relax after a business day or a day at the beach.
Meetings & Events
Leonardo Ashkelon Hotel has several halls for business meetings, conferences, and celebrations. Da Vinci Hall can host approx. 1,400 guests and it one of the only venues of this size in the Ashdod-Ashkelon Area. Visitors can expect elegant and spacious halls, great food and advanced A/C equipment. The events complex also includes an outdoor seaside venue, suitable for receptions and cocktail parties.
Find out more