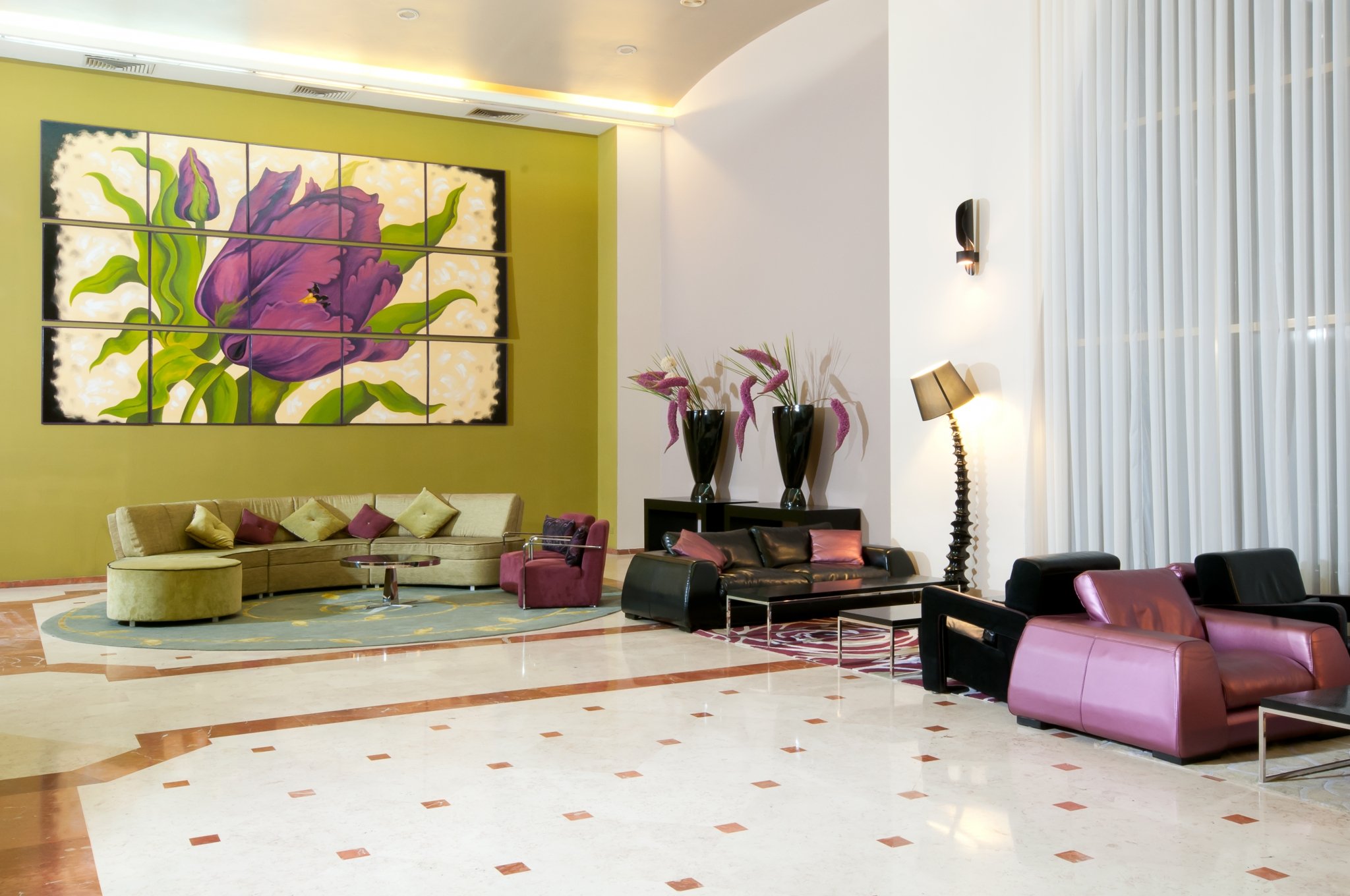 Hotel Info
Henrietta Szold Street 4, Be'er Sheva, Israel, 8489430 Beer sheva
Located in the middle of the city center
View map
Amenities
Free Wi-Fi
Bar
Spa
Swimming pool
Sauna
Gym
Air-conditioning
About the hotel
Leonardo Negev Be'er Sheva is a modern business hotel in the city centre. It flaunts superb conference and banquet halls equipped with state-of-the-art technology for meetings and events hosting up to 350 people. The hotel's 254 modern rooms have tasteful décor and all the premium amenities that make a stay comfortable.
Designed to appeal to business travelers, Leonardo Negev Be'er Sheva offers everything to satisfy guests who visit the city for leisure activities too. The outdoor pool is the main attraction in the summer, while our elegant spa is open year-round for treatments and massages.
There's also a children's pool where the little ones can splash around while more experienced swimmers enjoy the relaxing atmosphere of the central pool.
All the guests will enjoy the epicurean offer of the hotel restaurant, which is elegantly displayed in a buffet-style presentation, featuring salads, dairy specials, warm savoury meals, desserts, and foods for special dietary needs, like vegan, vegetarian, gluten-free, and lactose-free.
The location is another advantage that makes Leonardo Negev Be'er Sheva an irresistible destination in this part of the Negev desert of southern Israel. The hotel is next to the Central Bus Station, which enables visitors easy access to some of the most interesting city attractions, including the Negev Museum of Art, the Gateway to the Negev Visitor Center, Abraham's Well, and the Museum of Bedouin Culture among others.

There's so much to do when you visit Be'er Sheva. You can tour the old city, hike on the Abraham Path, take a trip down memory lane visiting the archaeological site in the Tel Be'er Sheva National Park, and much more.
Be'er Sheva is particularly attractive for its business opportunities – it has several high-tech centers, a well developed industrial zone, and important pharmaceutical and medical research facilities.
There's no shortage of entertainment, shopping, and dining either. Spend as much time as possible exploring. Leonardo Negev Be'er Sheva will then provide you all the comfort to rest and recharge your batteries.
The property is undergoing renovations. The following areas are affected: Spa. During renovations, the hotel will make every effort to minimize noise and disturbance.
Hotel Gallery
1 / 36 | Leonardo Hotel Negev - Lobby
Rooms
Leonardo Negev Beer Sheva boasts 12 stories of delightful cosiness by the heart of Be'er Sheva. The hotel has 254 lodging spaces – spacious designer rooms, romantic honeymoon suites, and a luxury presidential suite with whirlpool and all kinds of VIP-worthy perks. All rooms are air-conditioned and fitted with all the necessary amenities for a homey stay, including free Wi-Fi, LCD TVs, toiletries, and other convenient extras.
Business Floor Junior Suite
Book Direct And Get 10% Off
Join Leonardo AdvantageCLUB today, it's easy and free!
Start earning now and collect points for free stays in one of our Leonardo Hotels.
Good to Know
The property is undergoing renovations. The following areas are affected: Spa. During renovations, the hotel will make every effort to minimize noise and disturbance.
Check-in:
Sun - Fri: 3:00 pm Sat and Jewish Holidays: 6:00 pm
Check-out:
Sun - Fri: 11:00 am Sat and Jewish Holidays: 4:00 pm
Free parking, subject to availability
Services & Activities
Breakfast buffet:

Restaurant

Lobby bar

Pool bar
Outdoor pool

Kids pool

Gym

Hot Tub

Sauna

Spa
Room service

Banquet service

Ironing service

Welcome Baby

Luggage storage

Child care on request
Shoe shine machine

Meeting rooms

Newspapers

Business lounge
Pets are not allowed - guide dogs only
* The swimming pool is closed from November to April.
EXPLORE Leonardo Hotel Negev
Transportation
Be'er Sheva Central Train Station
500 m
Ben-Gurion Airport
90.0 km
Highlights
Negev Shopping Mall
1.0 km
Tel Sheva National Park
5.0 km
Old City (Turkish sites)
6.0 km
Cochin Jewish Heritage Centre
7.0 km
Israeli Airforce Museum
9.0 km
Rahat Bedouin Heritage Centre
10.0 km
Joe Alon Centre (Bedouin history)
14.0 km
Mamashit National Park
24.0 km
Companies / Exhibition grounds
Ben Gurion University
2.0 km
Omer Industrial Park (Medigus, Motorola)
12.0 km
Ramat Hovav (Teva Tech, Chimagis)
12.0 km
Restaurants and Bars
Leonardo Negev Hotel has a main restaurant and a Lobby Bar, both are kosher. At the main restaurant, guests will enjoy rich delicious meals. For snacks and drinks, visit the Lobby Bar. The latter has an extensive alcohol menu with Israeli wines, beers, and spirits as well as international brands.
Restaurant
Start your day with a rich dairy buffet. Enjoy a selection of pastries, cheeses, eggs, quiches, and salads. For dinner, the restaurant serves meat, fish and vegetarian main courses as well as side dishes and desserts. The kitchen staff also offers special treats for children such as hot dogs, pasta and burgers. Guests can enjoy great food prepared from fresh and top-quality ingredients.
Lobby Bar
If you are in the mood for a cup of coffee or a stronger drink, visit Leonardo Negev's Lobby Bar. Here you can enjoy hot beverages and alcoholic drinks as well as from dairy snacks. The bar has a welcoming atmosphere and comfortable seats, the perfect place to unwind from a long day of business or leisure.
Meetings & Events
Leonardo Negev Be'er Sheva has several meeting and event halls, suitable for 20-300 guests. Visitors will enjoy the impressive halls, as well as the professional and cordial service. The hotel Conferences and Events team is at your service. Together you can decide on the right hall, the seating style, the A/V equipment and the catering menu. The hotel team is here to ensure that every event is a success
Find out more