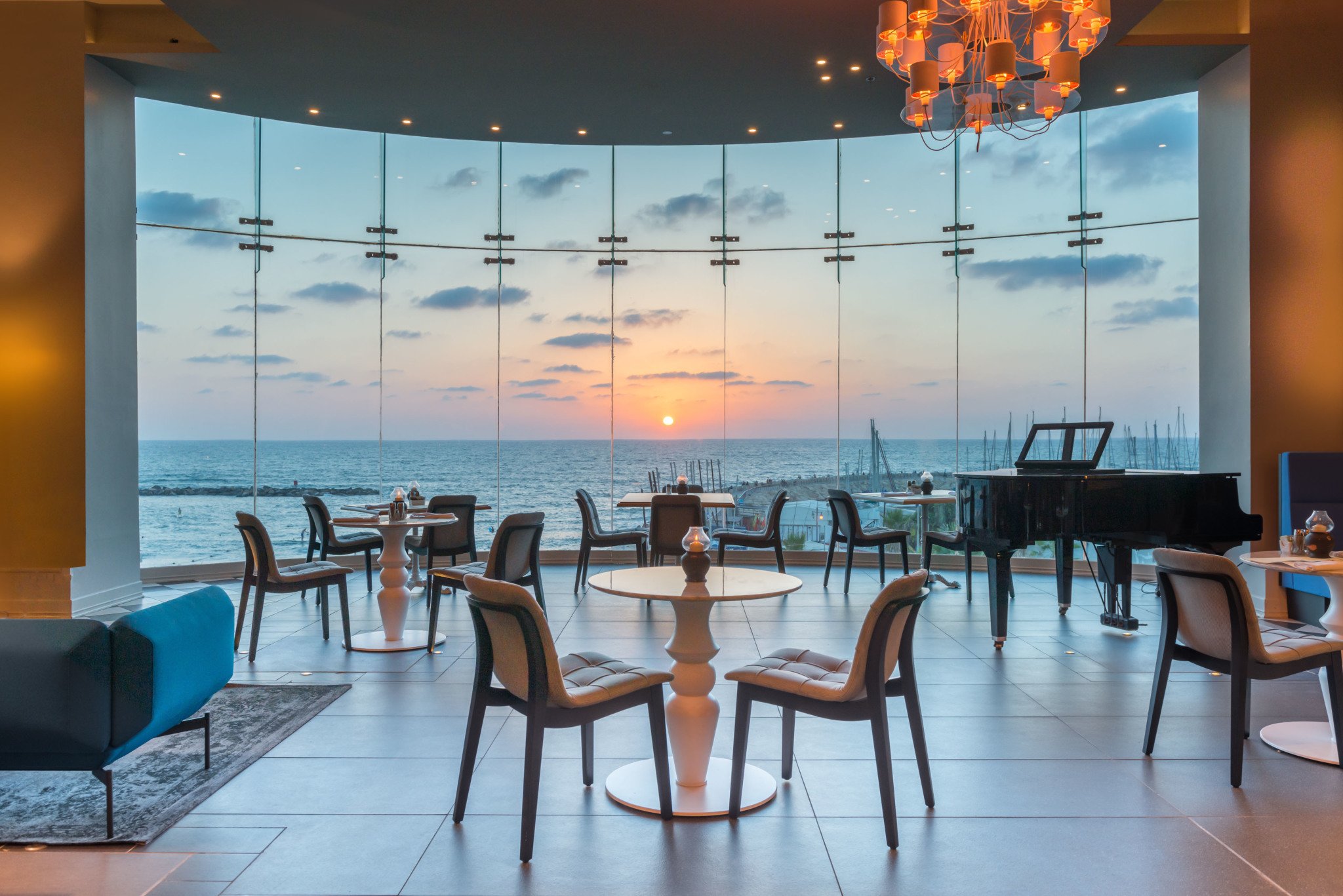 Good to Know
Check-in:
Sun - Fri: 3:00 pm Sat and Jewish Holidays: 6:00 pm
Check-out:
Sun - Fri: 11:00 am Sat and Jewish Holidays: 4:00 pm
Pets are not allowed - guide dogs only
Parking nearby - surcharge
Services & Activities
Breakfast buffet

Lobby bar
Outdoor pool

Gym

Segway rental service

Spa

Kids club
Room service

Laundry service

Ironing service

Child care on request

Banquet service

Concierge

Dry-cleaning service

Synagogue

VIP service

Welcome Baby

Public Parking nearby:
Banquet halls

Bicycle rental

Meeting rooms

Conference technology

Business centre
Direct access to the beach
EXPLORE Herods Tel Aviv Hotel
Transportation
Tel Aviv University
5.5 km
Ben Gurion International Airport
26.0 km
Highlights
Dizengoff Center Shopping Mall
1.5 km
Rothschild Boulevard
2.8 km
Tel Aviv Museum of Art
2.8 km
Companies / Exhibition grounds
Tel Aviv Convention Center - Expo Tel Aviv
5.8 km
Restaurants and Bars
Welcome to Herods Tel Aviv's Hadarim, the fantastic hotel restaurant serving breakfast, lunch, and dinner. The restaurant is kosher and serves both Israeli and international dishes. Chef Miki Nir leads the restaurant known for its unique atmosphere and tastes. The restaurant staff uses only top-quality produce because great food requires fresh and tasty ingredients.
Restaurant
Hadarim (Citrus) Restaurant is a mixture of simplicity and style. Guests enjoy dinner served under the sky, the ceiling has large windows, through you can see the sky. Inspired by old Tel Aviv the restaurant's décor has the atmosphere of a historical Tel Aviv Jaffa street with citrus trees and painted floors. Hadarim serves three meals a day. The dairy breakfast includes a wide selection of cheese, fish, and salads. Lunch and dinner menus have fish and meat dishes as well as vegetarian options. Our goal is to turn every meal into a celebration of colors, scents and tastes. Hadarim restaurant is kosher.

More hotels in
Hotels in
Tel-Aviv