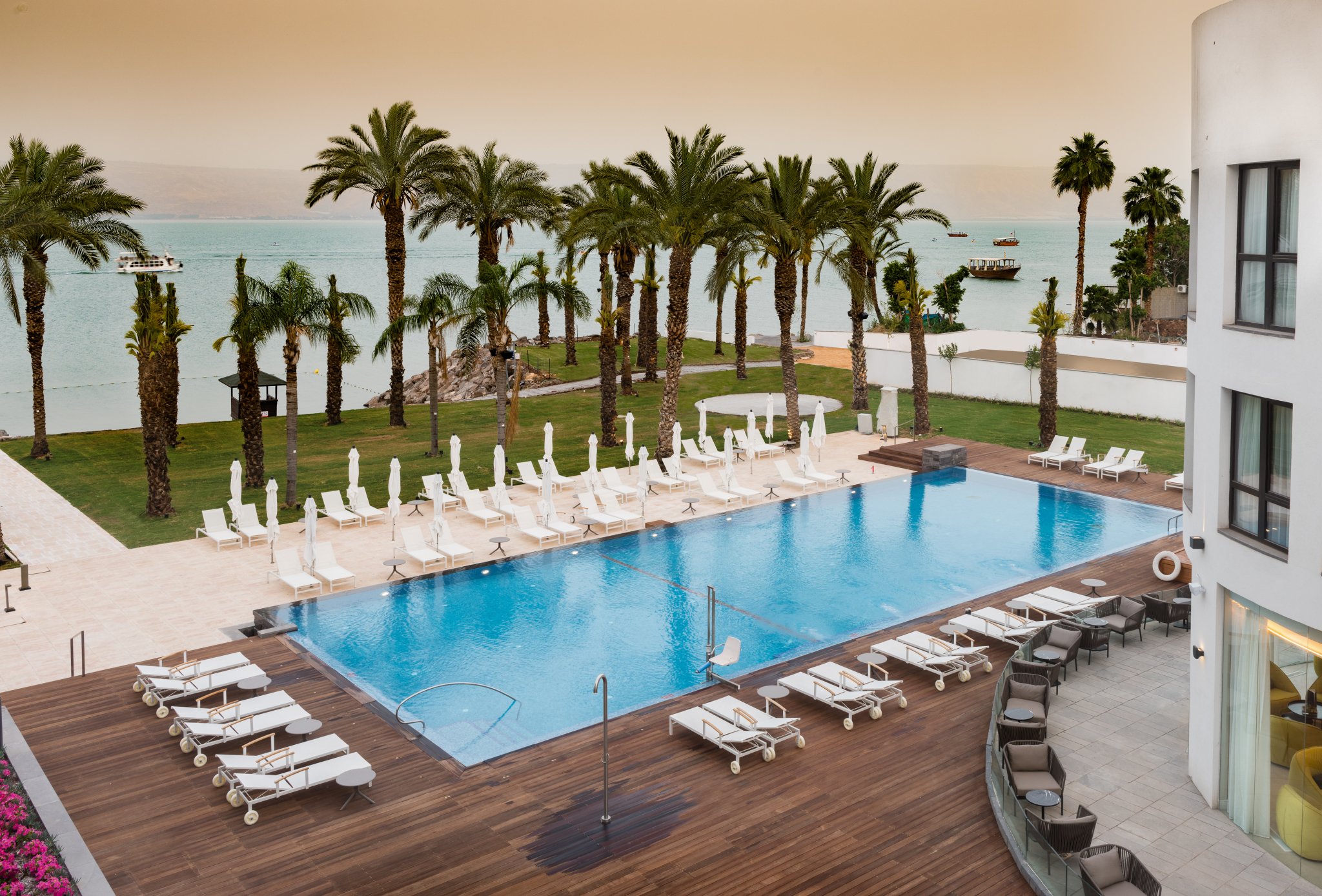 Hotel Info
Gdud Barak 1, Tiberias, Israel, Tiberias
Splendid location on the shores of the Sea
View map
Amenities
Free Wi-Fi
Parking
Restaurant
Spa
Swimming pool
Gym
Air-conditioning
Beach
About the hotel
U Boutique Kinneret is a youth-infused lakeside destination set amidst green, palm-fringed gardens. It fosters a sophisticated, luxurious vacation experience due to features like premium décor, controllable air-conditioning throughout, access to a private beach, and a pampering spa complex among a plethora of other facilities that make this hotel a destination in its own right.
With better-than standard amenities, including high-speed free Wi-Fi, U Boutique Kinneret delivers better-than-standard lifestyle experiences that will inspire you to come back for more. Vacationers here are just steps from the most sought-after destinations of the north: hikes in the Golan Heights, the natural park and reserve on Mount Arbel; or more specific attractions like the Church of the Primacy of Saint Peter and the Church of the Multiplication of the Loaves and Fish in Tabgha, and the Ancient Galilee Boat in the Yigal Allon Museum in Kibbutz Ginosar.
Or, come for the Kinneret Crossing in September if you prefer to challenge swimmers chasing the gold on the Sea of Galilee. U Boutique Kinneret is a year-round destination, perfect for a romantic vacation, modern and stylish, and well-fitted for families vacationing at the Sea of Galilee. There's a refreshing outdoor pool for adults and a smaller, covered pool for the little ones.
Our on-site restaurant serves delectable dishes for breakfast, lunch, and dinner – with vegan, vegetarian, lactose-free, and gluten-free options available on demand.
Hotel Gallery
1 / 34 | U Boutique Kinneret Hotel by the Sea of Galilee - Outdoor pool
Rooms
Flaunting 62 and ultra-modern rooms, decorated with flair and attention to detail, U Boutique Kinneret is a splendid sanctuary from the crowds, offering intimacy and tranquillity. Every room has IPTV, minibar, air-conditioning, free Wi-Fi, and complimentary L'Occitane en Provence body and hair care cosmetics in every bathroom. Your room will overlook either the glittering Sea of Galilee or the cityscape of Tiberias.
Book Direct And Get 10% Off
Join Leonardo AdvantageCLUB today, it's easy and free!
Start earning now and collect points for free stays in one of our Leonardo Hotels.
U Boutique Kinneret
U Beach
The hotel has a lovely beach where you can sunbathe while enjoying the soothing views of the Sea of Galilee.
U Restaurant
Serving creative dishes that celebrate the local cuisine and the aromas and flavors of the seasons.
U Spa
You deserve a pampering break at the spa. Ask the therapists to recommend the most indulgent treatment for your needs.
U Lobby Bar
An elegant, tranquil lobby bar allows you to relax with a drink or to have a snack during the day.
U Pool
Relax by the beautiful pool of the hotel on a cozy lounger under the slender palms. Have a drink from the poolside bar and seize the day.
Good to Know
Check-in:
Sun - Fri: 3:00 pm Sat and Jewish Holidays: 6:00 pm
Check-out:
Sun - Fri: 11:00 am Sat and Jewish Holidays: 4:00 pm
Services & Activities
Breakfast buffet:

Bar

Lobby bar

Pool bar

Lounge
Outdoor pool

Kids pool

Spa

Gym

Sauna

Hot Tub
Room service:

Laundry service

Welcome Baby
EXPLORE U Boutique Kinneret
Transportation
Ben Gurion International Airport
144.0 km
Highlights
Yardenit Baptismal Site
11.5 km
Mount of Beatitudes
16.0 km
Hamat Gader (hot springs)
21.8 km
Zippori National Park
41.0 km
Restaurants and Bars
Prepare for one of the best hotel restaurants you ever visited. The hotel's main restaurant, U Restaurant serves three meals a day. For alcoholic drinks, light meals and desserts, step into the hotel's lobby bar. The team takes pride in using only fresh and top-quality ingredients as well as local produce. Both restaurants are kosher.
U Restaurant
Start your day with a fantastic breakfast buffet. Guests can order their omelets just the way they like them, our waiters will bring them to the tables. The restaurant serves plenty of meat, fish and vegetarian options.
Lobby Bar
The lobby bar has a quiet ambiance and comfortable seating areas. Here you will enjoy pizzas, pastas, sandwiches and other light meals. Guests can choose from the bar's selection of desserts or order a drink. The bar is open from 11 am to 11 pm, please note that the kitchen closes at 9 pm.