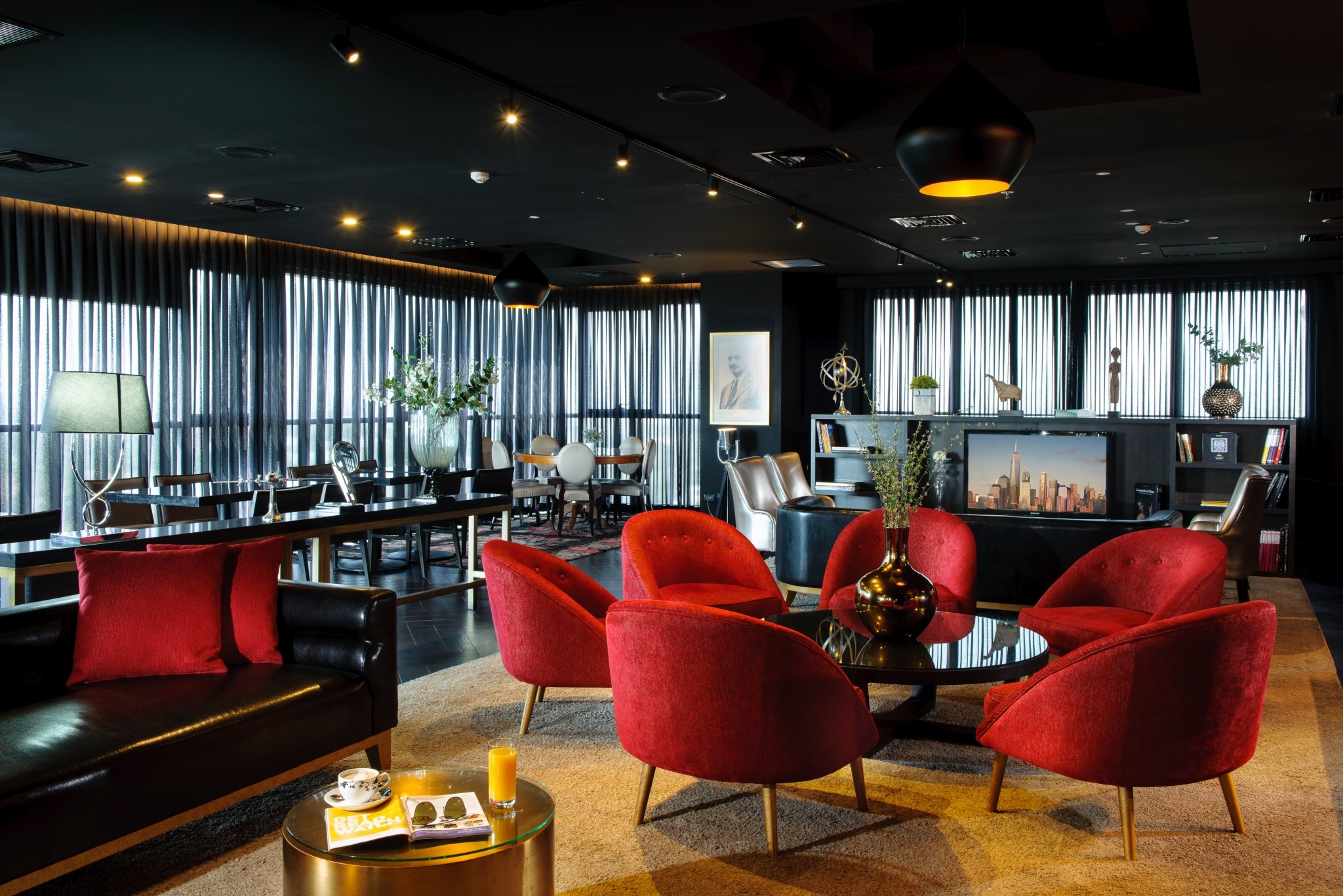 Leonardo Boutique Rehovot
Hotel Info
Prof. Hillel ve-Khanan Oppenheimer 2, Rehovot, Israel, 7670102 Rehovot
Very close to the Weizmann Institute of Science
View map
Amenities
Free Wi-Fi
Breakfast
Meetings
Conferences & Events
Air-conditioning
24-hour front desk
Business lounge
Welcome Baby
About the hotel
Leonardo Boutique Rehovot is a business and leisure hotel offering a premium lifestyle urban experience a stone's throw away from the Weizmann Institute of Science. The hotel boasts 116 boutique-style rooms and suites, decorated with flair and attention to detail, and fitted with premium amenities, including in-room entertainment options, free Wi-Fi, and air-conditioning.

The hotel has a superb business lounge, with black-and-red décor to inspire strength and creativity. It comes equipped with a computer station, telephone, printer, fax, scanner, and free Wi-Fi. To create a pleasant and stress-free environment for work or casual discussions with peers, the hotel offers free refreshments like pastries, fruit, and drinks to guests of the lounge.

Besides the Weizmann Business Lounge, business guests have access to modern meeting rooms fitted with high-tech conferencing equipment.
Guests who enjoy keeping in shape while traveling can take advantage of the hotel's gym, which is equipped with essential gear to satisfy most fitness needs. The hotel offers free bicycle rental for guests who prefer an eco-friendly way of reaching a destination in Haifa. After strenuous hours of work or sightseeing, a pampering in-room massage or spa treatment offers much-needed relief from stress and soothes aching muscles.

An urban haven for business travelers, Leonardo Boutique Rehovot is nevertheless suitable for couples seeking tranquillity and intimacy.
Within a stone's throw of the Weizmann Institute of Science, Leonardo Boutique Rehovot is also close to other remarkable Rehovot attractions including the Clore Garden of Science Museum, the Rehovot Municipal Art Gallery, the Ayalon Institute Museum, the Ohel Sarah Synagogue, the Josephson House, and the Barkan Winery at Hulda kibbutz.

Since Tel Aviv is less than 30 minutes' drive from Leonardo Boutique Rehovot, our guests have the chance to enjoy even more of the finest things Israel has to offer when they vacation in Rehovot.
Hotel Gallery
1 / 26 | Leonardo Boutique Hotel Rehovot - Lounge
Rooms
A short walk from the gates of the Weizmann Institute of Science, Leonardo Boutique Rehovot is a stylish business hotel with modern facilities and 116 designer rooms fitted to satisfy the demands of our busy guests, with workstations, free Wi-Fi, safe with laptop storage, air-conditioning, TV with international channels, and other convenient perks.
Book Direct And Get 10% Off
Join Leonardo AdvantageCLUB today, it's easy and free!
Start earning now and collect points for free stays in one of our Leonardo Hotels.
Good to Know
Check-in:
Sun - Fri: 3:00 pm Sat and Jewish Holidays: 6:00 pm
Check-out:
Sun - Fri: 11:00 am Sat and Jewish Holidays: 4:00 pm
Parking nearby - surcharge
Services & Activities
Room service

Laundry service

Welcome Baby

Ironing service

Synagogue
Business lounge

Banquet halls

Meeting rooms

Conference technology
Pets are not allowed - guide dogs only
EXPLORE Leonardo Boutique Rehovot
Transportation
Ben Gurion International Airport
26.6 km
Highlights
Weizmann Institute of Science
1.0 km
Companies / Exhibition grounds
Biokine Therapeutics Ltd.
1.0 km
Restaurants and Bars
Leonardo Rehovot has a main restaurant serving a daily breakfast buffet. The kitchen staff places special emphasis on using fresh and seasonal ingredients. Expect excellent food and cordial service.
Restaurant
Start your day with a rich breakfast buffet. The buffet is dairy and offers a selection of omelets, cheeses, pastries, salads and more. You can also have a cup of excellent coffee.

Meetings & Events
The Leonardo Boutique Hotel Rehovot provides an optimal and professional environment for business meetings, conferences and private events. There are several conference packages, as well as different meeting rooms for the events to choose from. These may include a wide selection of food & beverages, equipment, accessories and services chosen according to the requirements.

In our business lounge you may enjoy a variety of refreshments, homemade cakes and cookies or seasonal fruits. The conference halls are equipped with the latest audiovisual systems. The professional event team supports you with planning, preparing and realising your event and compiles an individual offer that will meet all your needs.
Find out more