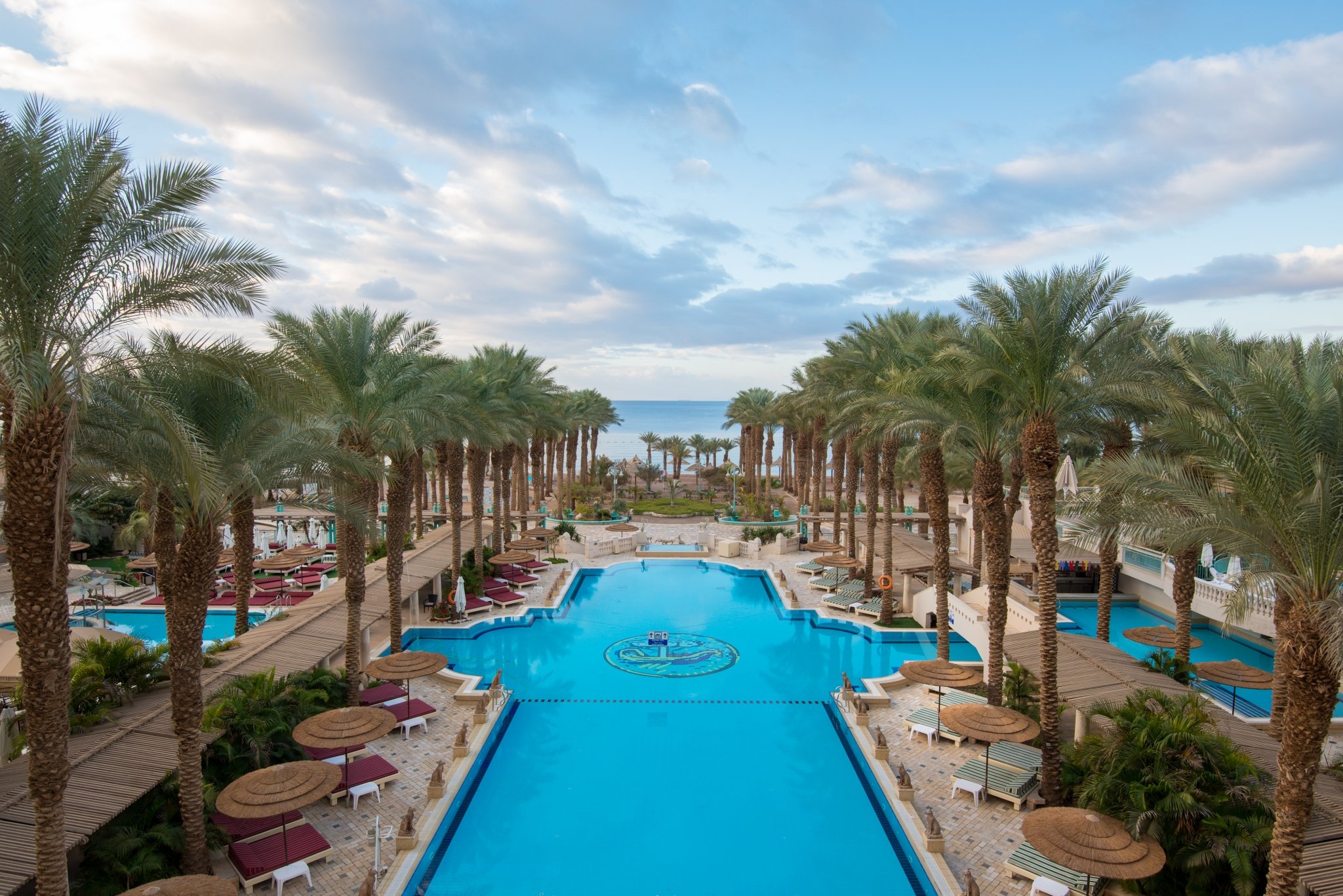 Herods Palace Eilat Hotel
Hotel Info
6 Ha-Yam Street, 8814101 Eilat
Located on the beach and Promenade
View map
Amenities
Free Wi-Fi
Bar
Spa
Swimming pool
Sauna
Gym
Air-conditioning
Beach
About the hotel
Herods Palace Eilat's setting on the North Beach is convenient to access the shops and the lively nightlife of the city. The moment you see the imposing silhouette of the hotel rising above the promenade, its name makes sense. There's the promise of palatial luxury inside too, and Herods Palace Eilat delivers in all its 297 rooms and the hotel's common areas.
The pool is a masterpiece of design flanked by zoomorphic statues and slender palm trees – an oasis of calm by day, to sunbathe, relax with a cold drink from the poolside bar, or swim.
The hotel restaurants guarantee the ultimate culinary experience in Eilat, with cooked-at-your-table theatrics, all-you-can-eat breakfast buffet, mains dished in magazine-worthy layouts, comfort food, specials for people with food allergies and varied dietary needs, meats, salads, dairy products, pastries, pastas, fresh bread, and so much more.
Business travelers will appreciate the meeting rooms, conference spaces, in-room amenities, cutting-edge technology available for private use or events, 24/7 room service, and high-speed Internet access via complimentary Wi-Fi throughout.
There's entertainment for all ages, in the form of regular live performances for the entire family, or hands-on activities for the younger guests, who also have access to a children's club full of enchanting toys, games, and activities.
The hotel is part of a complex comprising three masterpieces of design and hospitality: Herods Palace, Herods Vitalis, and Herods Boutique, each with unique qualities and VIP-worthy facilities.
Outside the hotel, guests will find the bustling promenade with shops and restaurants, the fantastic Ice Mall where you can ice skate even the weather outside is scorching, and the Spiral Park with its adrenaline-pumping carousels and thrills.
Must-see attractions in Eilat include the Dolphin Reef, where interactions with the splendid marine mammals are typical; the Coral Beach Nature Reserve and Conservation Area where you can dive or snorkel to see the coral reef and the fauna of the Red Sea; the Coral World Underwater Observatory, which has an amusement park and a fantastic aquarium with sharks and stingrays. Activities also include Jeep tours in the desert, hikes in the Eilat Mountains, cycling, birdwatching, and practising all kinds of watersports.
Hotel Gallery
1 / 25 | Herods Palace Eilat Hotel - Outdoor Pool
Rooms
With bright and stylish interiors, Herods Palace Eilat is the luxury hotel you deserve. All its 297 rooms are fitted for ultimate comfort. Besides air-conditioning and free Wi-Fi, you can also expect a whole suite of conveniences, including coffee and tea making kits, toiletries, and many other perks.
Book Direct And Get 10% Off
Join Leonardo AdvantageCLUB today, it's easy and free!
Start earning now and collect points for free stays in one of our Leonardo Hotels.
Herods Palace Eilat Hotel
Cuisine
Superb dining options with the freshest seasonal ingredients to make you fall in love with Herods Palace.
SKY Business Lounge
Inspiring views, sophisticated decor, and yummy nibbles to help you concentrate when you catch up with work - this is SKY Business Lounge.
Starry-starry skies
Stars and the lights of the city shine on the sea at night and the views are beyond spectacular.
Business vibes
Host any function in our modern, state-of-the-art facilities.
Check-in:
Sun - Fri: 3:00 pm
Sat and Holidays: 6:00 pm
Check-out:
Sun - Fri: 11:00 am
Sat and Jewish Holidays: 2:00 pm
Pets are not allowed - guide dogs only
Free parking, subject to availability
Outdoor pool

Kids pool

Entertainment staff

Gym

Kids club
Concierge

Room service

Laundry service

Gift shop

Synagogue

Welcome Baby

Ironing service

Beauty salon

24-hour room service
Direct access to the beach
EXPLORE Herods Palace Eilat Hotel
Transportation
Ramon International Airport
23.0 km
Ben Gurion International Airport
340.0 km
Highlights
The Underwater Observatory Park Eilat
9.0 km
Restaurants and Bars
Herods Palace has restaurants and bars. You can enjoy breakfast and dinner buffets at the main restaurant, cold drinks and ice creams in the pool bar that is located inside the pool, have a drink at the lobby bar and more. The culinary delights of Herods Palace will not cease to amaze you.
Restaurant
This is the place to enjoy breakfast and dinner buffets. Birdwatchers' Restaurant has a balcony overlooking the sea, where diners can enjoy delicious food as well as the view outside. The breakfast buffet is dairy, at dinner, you can enjoy a selection of meat, fish and vegetarian options.
Tamarind Restaurant
Tamarind serves breakfast and dinner, and in between guests can enjoy excellent coffee and freshly squeezed juices. The restaurant stands out due to its Mediterranean flavors with dishes from Italy, Greece, Israel, and other countries.
Lobby Bar
The comfortable and inviting bar serves light meals and desserts during the day and evening hours. Here you can order sandwiches, pasta, soups, pastries, and desserts. The bar also serves smoothies, hot beverages, and alcoholic drinks. The menu is dairy.
Poolside and Snack Bar
The Gazebo offers grilled meats and hot sandwiches for lunch, as well as cold drinks. The snack bar is in the pool area and guests can enjoy a quick lunch without leaving the pool.
Shake It is a bar that is located inside the pool. Guests can order a cold drink without getting out of the water! The bar is also accessible from outside the pool. Shake It serves smoothies and soft drinks, ice creams, and desserts.
Officers' Bar
Located on a balcony overlooking the pool area, this is the perfect place to enjoy an evening drink. The bar is known for its lively atmosphere and impressive alcohol menu.
More hotels in
Hotels in
Eilat