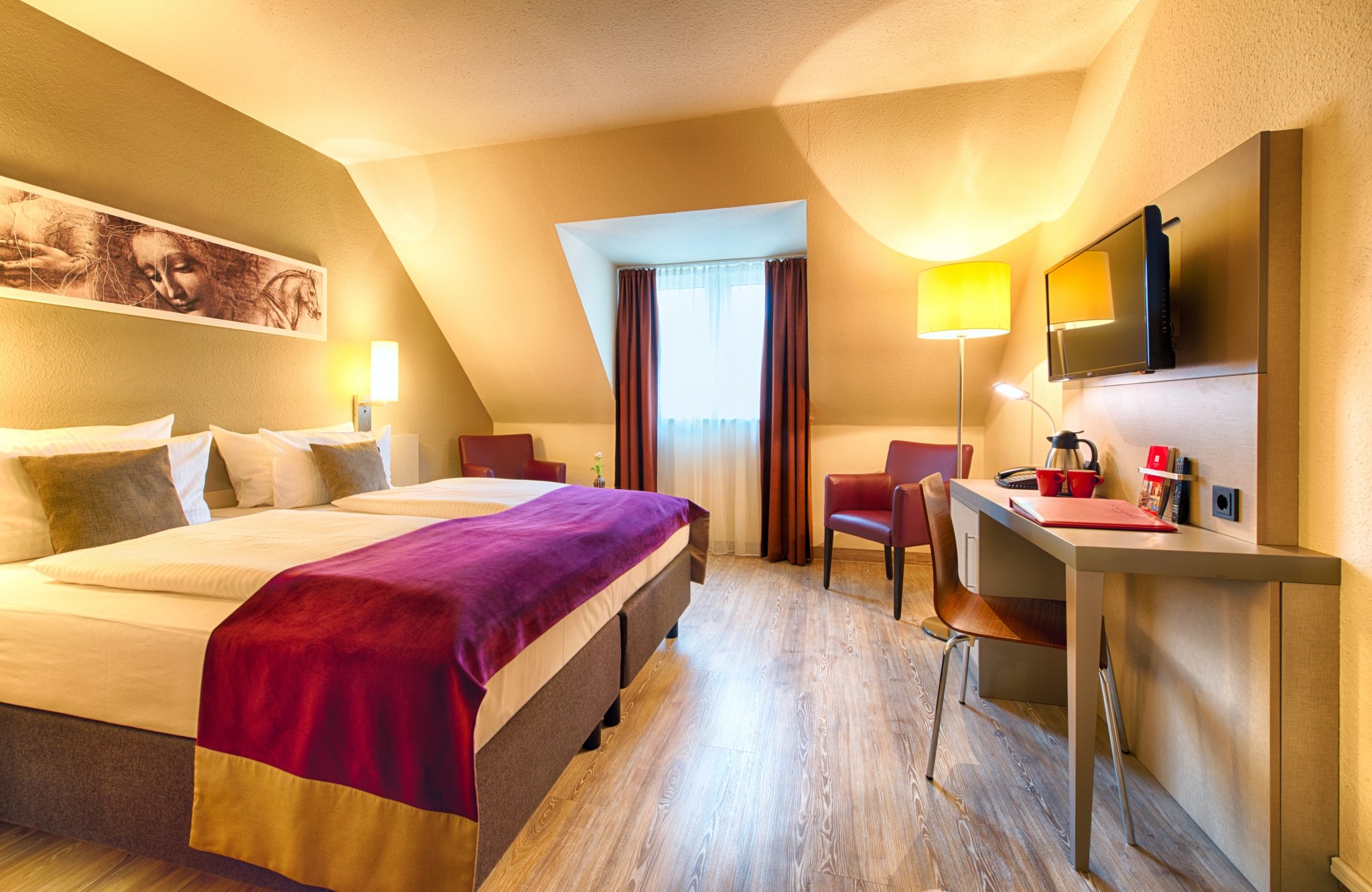 Leonardo Hotel Mannheim-Ladenburg
Guest Reviews
Mycket trevlig och bra hotell"
Mycket trevlig och bra hotel. Hotellet ligger nära autobahn trevligt inrett med lagom stora rum. Fantastisk frukost buffe vi saknade inget. Det fanns även resturang. Garage i källaren stort plus. Vi fick ett Black friday pris på 62 euro för en natt och frukost. Nästa gång vi bilar till Spanien kommer vi definitivt att övernatta där.
Schönes sehr sauberes Hotel"
Das Hotel ist sehr sauber, sehr freundliches Personal. Die Lage war für uns sehr gut, nicht weit vom Zentrum entfernt und ruhig. Die Frühstücksauswahl war super. Nur die Zimmer würden wir nicht als Comfort-Zimmer bezeichnen, es sind normale einfache Doppelzimmer, aber alles sehr sauber.
Habe mich sehr wohl gefühlt"
Ich werde wieder kommen und auch weiter empfehlen
Auf jeden Fall wieder....................."
Soweit war alles sehr Optimal. Leider war das Badezimmer teilweise nicht wirklich Sauber, was ich aber an den wahrscheinlich sehr häufig unterschiedlichen / wechselnden Nutzern fest mache. Trotzdem könnten die Ecken ( in meinem Badezimmer, Zimmer 320 ) besser mit gereinigt werden, es fällt leider auf das es vielleicht manchmal nicht so Gründlich gemacht wird. Die Gummilippe der Glasscheibe Badewanne muss unbedingt mal getauscht werden, das war leider ein wenig Eklig, wenn man Badet und es immer vor der Nase hat. Das Frühstück ist einmalig und mehr als Ausreichend. Die / der zuständige Mitarbeiterin / Mitarbeiter war sehr zuvorkommend / freundlich und immer Präsent. Mitarbeiterinnen / Mitarbeiter Empfang waren ebenfalls immer freundlich und Hilfsbereit. Beim Betreten Ihres Hauses gewinnt man einen Hochwertigen und sauberen Eindruck, besonders Abends macht es Laune das Ambiente zu sehen, sehr gemütlich. Leider war die Bar / Theke geschlossen, das hat mich sehr geärgert. Hätte gerne gemütlich mit meinen Lehrgangskollegen einen Drink genommen. Abschließend kann ich sagen, das Leonardo ist echt ein Schmuckstück. .Leider muss ich wegen der genannten Thema Badezimmer Abzüge in meiner Bewertung vornehmen, ansonsten 100 % !!
Stayed there for one night. It was nice. I just didn't like that although my credit card was charged weeks before arrival they "reserved" my card for the same amount when i arrived. Why reserve smtg that is already payed and without telling me about it
Schöne Zimmer, tolles Frühstück!
Good to Know
Private underground parking:
€3.50 per day (reservation is not possible)
Private outdoor parking:
€3.50 per day (reservation is not possible)
Services & Activities
Breakfast buffet:

€15 per person*

Mon - Fri: 6:30 am - 10:00 am

Sat - Sun: 6:30 am - 11:00 am

Restaurant

Mon - Sun: 6:00 pm - 10:00 pm

Bar

''Leo Lounge 21''

Mon - Sun: 5:00 pm - 1:00 am
Free baby cots:

Banquet service

Room service:

Mon - Sun: 6:00 pm - 10:00 pm

Fax/photocopying service
Meeting rooms

Conference packages

Virtual entertainment

Exhibition hall

Adapters/Chargers

Conference technology