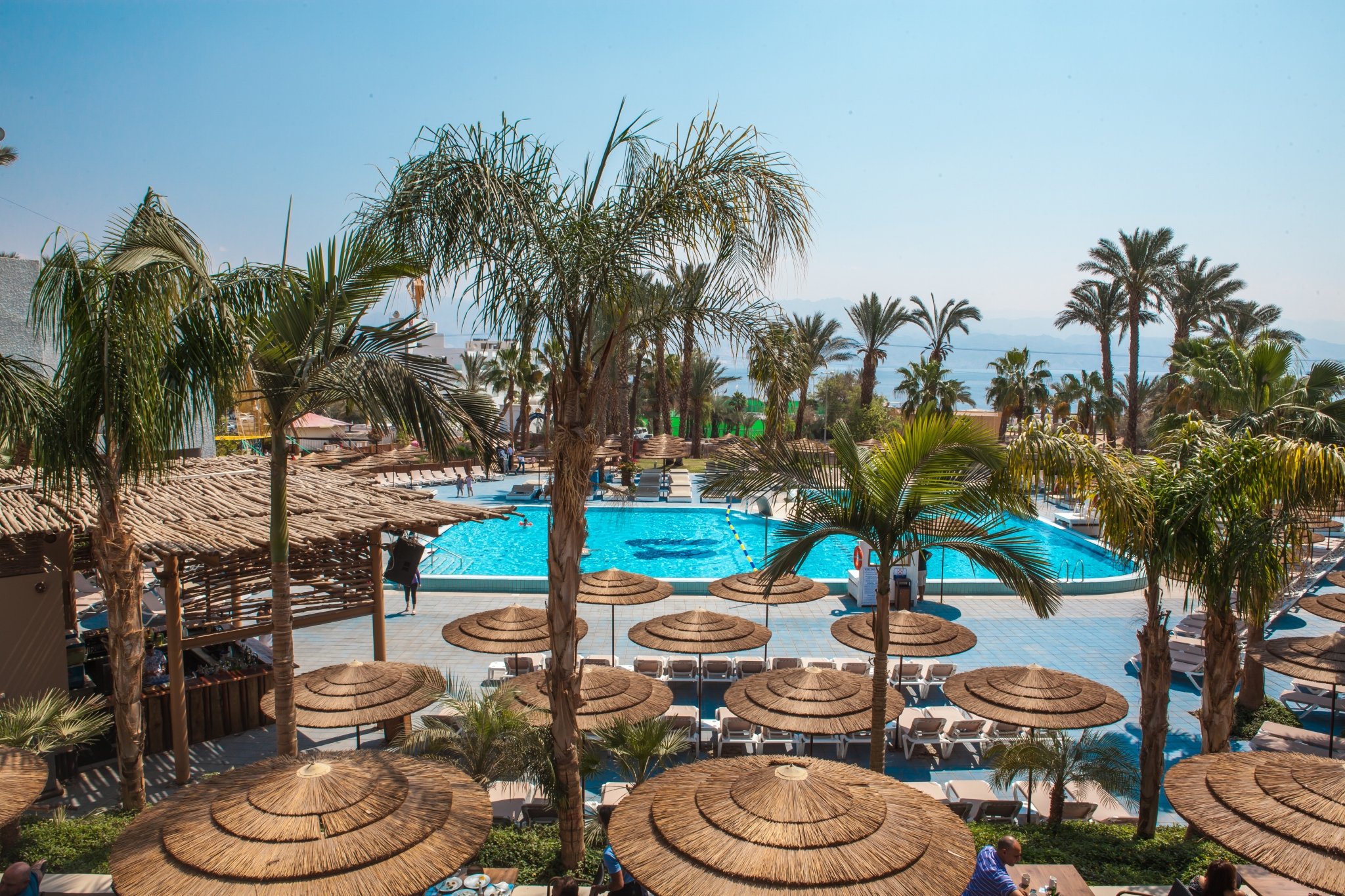 U Coral Beach Club Eilat Ultra All Inclusive
Hotel Info
Almog Beach Marina, Eilat, Israel, 8812101 Eilat
Amenities
Free Wi-Fi
Restaurant
Spa
Swimming pool
Air-conditioning
Kids club
Welcome Baby
Beach
About the hotel
The resort-style U Coral Beach Club Eilat Ultra All-Inclusive offers a lifestyle experience for the entire family. It has a splendid private beach with a wealth of activities, which include snorkeling, beach volleyball, windsurfing, and parties. There are also archery classes at the hotel, tennis and basketball courts, mini-golf, and a flying trapeze installation that adds a plus of fun and adrenaline rush to the entire experience.
Live shows and parties keep the guests entertained until dawn, while the little ones enjoy age-appropriate activities in their own clubs, which are equipped with games, gaming consoles, toys, and materials for arts and crafts.
The all-inclusive kosher dining experience comprises five meals every day, starting with a rich buffet-style breakfast, and ending with midnight snacks. Some dishes are prepared in front of the guests, while patrons with special dietary needs – like lactose-free and gluten-free meals – can pre-order their food.
U Coral Beach Club Eilat Ultra All-Inclusive aces wellness in its exclusive spa complex, which has signature massages with coconut oil and coconut flakes paired with cold champagne and fresh fruit.
The hotel flaunts 282 rooms with modern décor, comfortable beds draped in premium linen, free Wi-Fi, and all the amenities that make a stay in Eilat homey and stress-free.
As its name implies, U Coral Beach Club Eilat Ultra All-Inclusive enjoys a fortunate setting steps from the Coral Beach Nature Reserve and Conservation Area and not far from the Dolphin Reef and the Coral World Underwater Observatory – two of Eilat's most celebrated tourist attractions.
With U Coral Beach Club Eilat Ultra All-Inclusive, guests can also discover other cherished local attractions, as the hotel organizes excursions to the UNESCO World Heritage Sites of Massada and Petra, and tours of Jerusalem, among other activities.
Hotel Gallery
1 / 31 | U Coral Beach Club Eilat Ultra All Inclusive - Swimming Pool
Rooms
U Coral Beach Club Eilat Ultra All-Inclusive has 282 modern, bright rooms, fitted with the amenities you need for a comfy stay. Besides controllable air-conditioning throughout and complimentary Wi-Fi, they also have coffee and tea making facilities on request, toiletries, in-room entertainment, and all kinds of other convenient extras.
Book Direct And Get 10% Off
Join Leonardo AdvantageCLUB today, it's easy and free!
Start earning now and collect points for free stays in one of our Leonardo Hotels.
U Coral Beach Club Eilat Ultra All Inclusive
A memorable all-inclusive experience
With activities around the clock, five meals daily, superb accommodation, and sumptuous and colorful facilities, the hotel offers the ultimate all-inclusive experience for the entire family.
Sports and activities
A wealth of water-based activities including windsurfing and snorkeling in the sea are the obvious sports and activities at U Coral Beach Club Eilat Ultra All-Inclusive. The hotel also offers archery, basketball, beach volleyball, dancing, and mini-golf.
Flying trapeze
A fun, adrenaline boasting high-flying attraction for the most daring guests adds a plus of exotic appeal to the range of activities available at the hotel.
U Beach complex
U Coral Beach Club Eilat Ultra All-Inclusive is the only hotel of its kind in Eilat to offer an ultra-exclusive beach to its guests, complete with comfy seating and umbrellas.
U Eataly
The hotel's Italian restaurant serves sophisticated kosher dishes created by talented chefs, Italian specialties cooked in a Tabun oven, and an extensive fish buffet.
Entertainment
The exclusive entertainment program at U Coral Beach Club Eilat Ultra All-inclusive features performances by the U Topia cabaret circus and family-geared Disney-themed musicals.
Good to Know
Check-in:
Sun - Fri: 11:00 am Sat and Holidays: 2:00 pm
Check-out:
Sun - Fri: 11:00 am Sat and Jewish Holidays: 2:00 pm
Services & Activities
5 free meals a day and free drinks (incl. alcoholic)

Restaurant

Bar

Pool bar

Drinking fountain

All inclusive resort
Outdoor pool

Snorkeling

Gym

Sauna

Spa

Flying trapeze

Sports fields: basketball, tennis and beach volleyball

Mini golf

Tennis court

Windsurfing

Kids club

Youth club
Dry-cleaning service

Beauty salon

Child care on request

Concierge

Welcome Baby

Luggage service

Laundry service

Luggage storage

Baby cots

Gift shop

Synagogue
Playground

Excursions and activities

Private Beach
Pets are not allowed - guide dogs only
EXPLORE U Coral Beach Club Eilat Ultra All Inclusive
Transportation
Ramon International Airport
26.5 km
Ben Gurion International Airport
350.0 km
Highlights
The Underwater Observatory Park Eilat
1.5 km
Restaurants and Bars
Prepare yourself for a culinary experience! At U Coral Beach All-Inclusive Hotel, you will enjoy three meals a day at the main restaurant, ice creams and soft drinks by the pool, hot beverages and alcohol at the Lobby Bar and great Italian food at U Eataly. All restaurants and bars are kosher.
Restaurant
The main restaurant at U Coral Beach All-Inclusive Hotel serves three meals a day. At breakfast, guests will enjoy a rich dairy buffet with a selection of eggs, salads, quiches, pastries and more. For lunch and dinner, the restaurant offers meat, fish and vegetarian main courses as well as side dishes and desserts. Gluten-free and vegan food is also available, please contact the hotel staff in advance.
U Eataly
The fantastic Italian restaurant is located at the hotel's private beach and offers a wide array of fish dishes as well as Italian food. The restaurant is dairy and serves pasta, pizzas, and other favorites. Guests of U Coral Beach can choose to dine once at U Eataly, as part of the all-inclusive package. The restaurant is open from Monday-Thursday for lunch and dinner, and on Fridays for lunch only. The restaurant is closed on Saturdays and Sundays.
Snack Bar
The poolside Snack Bar is open every day of the week and offers popsicles and cold drinks, including beers during the late morning and early afternoon hours
Lobby Bar
The Lobby Bar serves hot beverages and cold drinks during the day and evening. In the afternoon and evening hours, the bar also serves domestic and international alcoholic drinks.
Meetings & Events
The hotel has several indoor rooms and halls for small and mid-size events as well as an outdoor deck, by the sea. The outdoor venue is a popular spot for cocktail parties, expos and live shows. At the indoor halls you can host a quiet meeting for an intimate crowd or a conference for hundreds of attendees.
Find out more