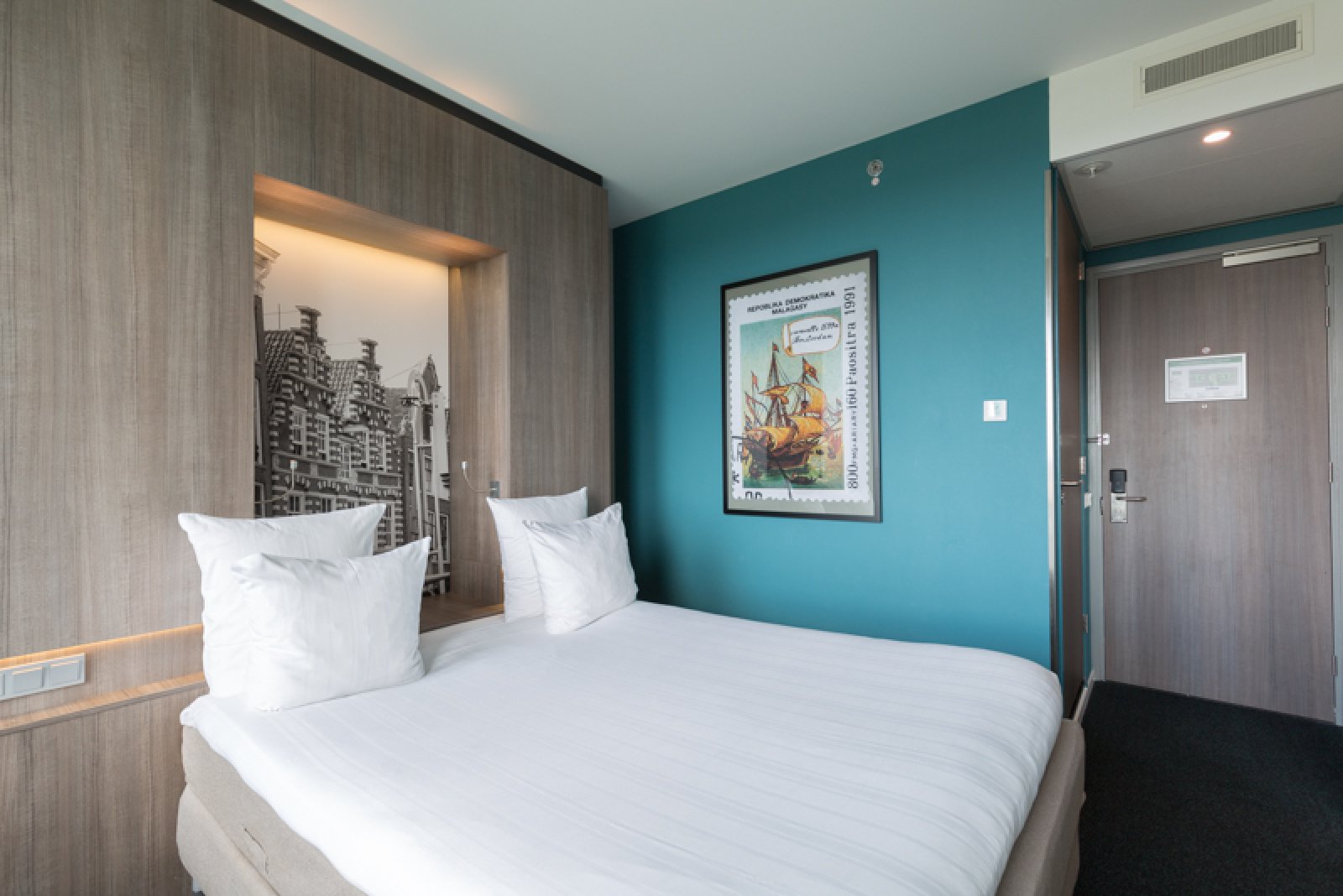 Leonardo Hotel Amsterdam Rembrandtpark
Guest Reviews
Very friendly staff, good breakfast and you don't need long to get into the city center.
Great Hotel and amazing Staff !"
We arrived there for a weekend. The hotel was very good, so friendly staff and awesome Cocktails in the evening. The Rooftop View is amazing ! However, the breakfast is highly expandible. Little fruit selection. Hardly any vegetables. Small selection of cereals. But all in all, we were very satisfied.
Leonardo Hotel Amsterdam Rembrandtpark"
A really nice room and lovely worker. - : on Saturday night we wanted take a drink on the rooftop, we had to take ourself our glass upstairs because the bar was close, no one told us that there was no music, no lights and that no one clean after the rain so i sat and the chair was full of water. I think that for such peice and standing it is not acceptable. Either the rooftop is open, either not you can't do it.
We always stay in this hotel when visiting Amsterdam"
This was our 3rd stay in hotel Leonardo Amsterdam Rembrandtpark. For tourists coming to Amsterdam the hotel is on a perfect location, and the city can easiliy be reached by public transport. The hotel has a beautiful modern interieur style, and tasteful, comfortabele rooms, friendly staff, good service and a very nice breakfast buffet.
Relaxed stay in a nice and modern city hotel"
Nice stay############# #########
Good balance between accommodation and price"
The hotel is located at Rembrandtpark, with Tram line 13 about 15 minutes to the city centre. The room was of sufficient space but at the first day we had to do without room service - unfortunately... We could not open the windows - which was ok because we stayed at 4th floor. The staff was helpful and polite. Breakfast was good and both of a big variety and quality. The hotel has a nice roof terrace which we could not use due to the wheather conditions. All in all a good hotel. Friendly and helpful staff! Good room but without room service the first day. Mattresses were a little bit soft. Good balance between price and value! We used the breakfast which was very good! We did a city trip to Amsterdam. So we choosed the hotel because of the distance to the sights. We used the breakfast which was very good! The comfort was good! At the first day we had to do without room service - but we would have liked it... We had all that we needed, including a hair dryer...
Good to Know
Private underground parking:
Electric vehicle charging station
Pets are not allowed - guide dogs only
Express Check-in/Check-out
Services & Activities
Breakfast buffet

Restaurant

Lunch
Daily 12:00 - 16:00

Dinner
Daily 18:00 - 21:30

Restaurant & Bar

Bar

Lobby bar

Bar/Lounge

Rooftop Bar

Grab'n'Go

Breakfast
Room service

Luggage service

Airport shuttle

€7,50
Based on availability
Every 40 minutes from 06:20 a.m. until 09:40 p.m.

Luggage storage

Dry-cleaning service

Laundry service

Gift shop

Wake-up call

Room service:
Meeting rooms

Conference technology

Bicycle rental

Extra beds available
Rooftop terrace

Panoramic terrace

Sun terrace