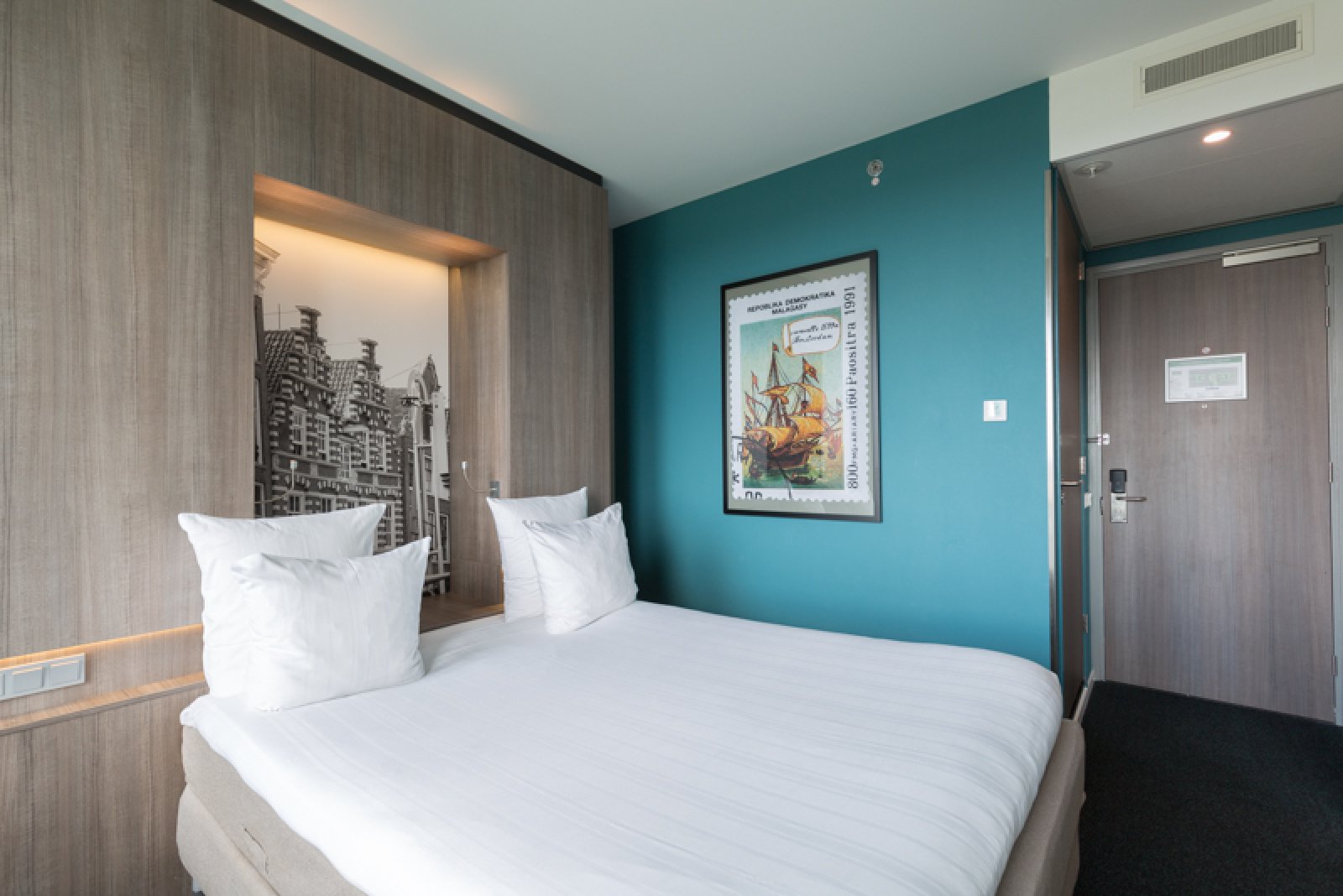 Leonardo Hotel Amsterdam Rembrandtpark
Guest Reviews
Super nice view from the restaurant over Amsterdam."
Really good. However, on entering room 1520 I experienced a bit of a smell, most likely from the bathroom drains or something like that. Room seemed nice and clean, I had an excellent sleep. Smell was just a little thing to mention, and while staying in the room I got used to it, and didn't notice it so much.
Wir waren super zufrieden mit dem Hotel."
Wir haben recht kurzfristig einen Städtetrip nach Amsterdam geplant und sind dann auf dieses Hotel gestoßen. Die Lage ist zwar nicht 100% zentral, aber es gibt eine Tram-Station direkt beim Hotel, man ist also in ein paar Minuten in der Innenstadt. Der Ausblick von den Zimmern und auch von der Bar/der Terrasse ist wunderschön über die ganze Stadt. Es gibt direkt vorm Hotel einen schönen Park zum joggen oder spazieren gehen. Beim Frühstück gab es sehr viel Auswahl und das Personal hat darauf geachtet, dass immer genügend von allem da ist. Das Zimmer war sehr modern eingerichtet und sehr sauber. Es wurde auch jeden Tag sauber gemacht und neue Handtücher bereit gestellt. Das Personal allgemein war sehr nett und hilfsbereit. Ein weiterer Pluspunkt ist der Gepäckraum im Keller, hier konnten wir unsere Koffer nach dem Check-Out bis zur Abreise kostenlos verstauen und dann bei Bedarf wieder abholen. Alles in allem hat es uns sehr gut gefallen und wir werden wieder kommen :) Sehr sehr schöne Bar aber die Preise für die Getränke sind ziemlich hoch.
All the convenience of a high end hotel and extraordinary customer service"
This hotel belongs on a list of 'hidden gems' because of the quality of staff and services. From the reception staff to the hospitality staff, with special mention going to the hospitality services manager, no effort was spared to ensure that guests are provided all amenities, and an authentic personalized welcome. The room was clean and bright, the coffee bar as good as a local cafe, and the rooftop lounge has a view as good as any in the city. But what really makes this place stand out is how invested the team is in making your experience exceptional. Highly recommend this hotel to anyone staying in the area. even the lobby was always inviting, with chill music, comfortable chairs and a lovely view of the park again, cannot compliment your staff enough - smart, pro-active, kind, friendly, helpful - and honestly, above and beyond doesn't even cover it I was astounded by the quality of your product for the price I stayed with you because of the location, but it's true that there isn't much around, interesting cocktails, nice ambiance, great view and stellar staff (particularly the manager, bartenders and wait staff) bikes to rent, a great coffee car, terrific rooftop bar
we had a very nice stay at your hotel.
Hotel was absolutely amazing will definitely be staying again next time!! Everything was spotless view from the room was amazing. Nothing at all to fault. Staff couldnt help you enough. Rooftop bar absolutely amazing.
Es war gut nicht so weit von Zentrum entfernt und mit ein Park davor
Good to Know
Private underground parking:
Services & Activities
Breakfast buffet:

€19 per person
Mon - Fri 7:00am – 10:30 am
Sat - Sun 7:00 am – 11:00 am

Restaurant

Lunch
Daily 12:00 - 16:00

Dinner
Daily 18:00 - 21:30

Bar

Rooftop Bar

Grab'n'Go
Airport shuttle

€7,50
Based on availability
Every 40 minutes from 06:20 a.m. until 09:40 p.m.

Gift shop

Luggage service

Room service
Bicycle rental

Extra beds available

Meeting rooms