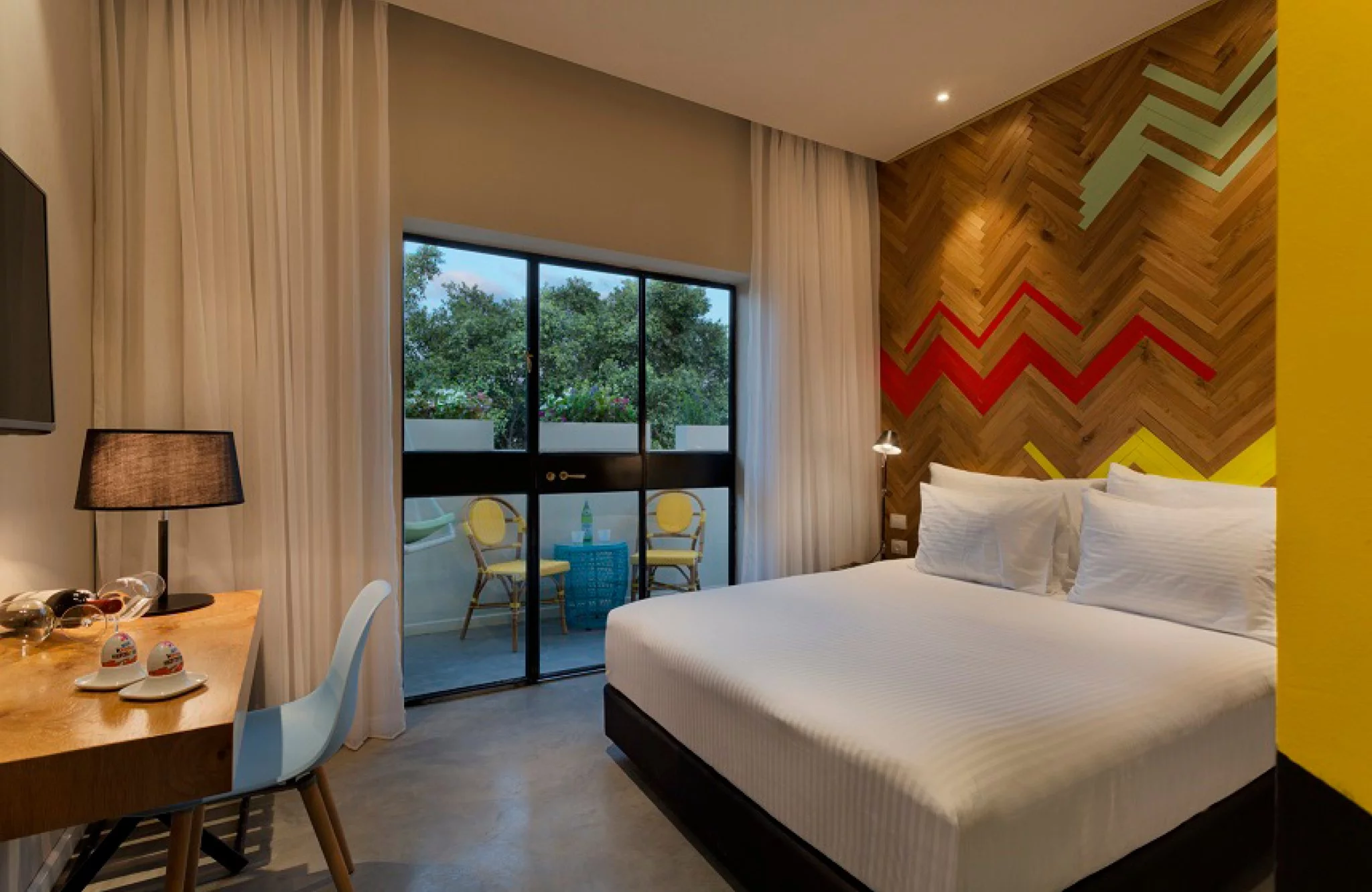 Hotel Info
Dizengoff Street 83, 6433254 Tel-Aviv
On Dizengoff Square, central Tel Aviv
View map
Amenities
Free Wi-Fi
Breakfast
Parking
Restaurant
Gym
Accessibility
Air-conditioning
24-hour front desk
About the hotel
A breath of fresh air in the beating heart of Tel Aviv, CUCU is the quirky new kid on the block, the free-spirited artist, the friend you've always wanted to have, the cool place you've always wanted to be. This boutique hotel on Dizengoff Street redefines top quality urban hospitality with style that will bring out the best in you and send you home with a smile. We know what's up and understand that life is about living, right here, right now. We're not crazy. Just a little...CUCU
CUCU is the hotel in Tel Aviv that brings fun and excitement into every corner of the guest experience, from the prime city center location to the eccentric design flair that influences each room in its own unique way. It's a truly boutique atmosphere inspired by Tel Aviv's own dynamic character, situated close to a whole world of shops, restaurants, bars, and the famous Dizengoff Center Mall. Of course, the beach is also just a stroll away.
Blending bold colors and daring designs with timeless relaxation and world-class comfort, the CUCU design hotel in Israel showcases the best of secret Tel Aviv – a multicultural, multifaceted city that combines a laid-back vibe with endless entertainment options. It's the perfect choice for guests seeking a dynamic hub for urban experiences, as well as a peaceful haven offering relaxation amid the bustling metropolis.
Rooms
Every CUCU guest room shows that we're crazy about comfort. Designed to help you feel like a superstar when you go to bed, and put a smile on your face when you wake up, our four room types (16 to 30 sqm) combine the best urban amenities with a touch of special CUCU flair. Plus, all guests enjoy complimentary bottled water and Kinder eggs at check-in.
Book Direct And Get 10% Off
Join Leonardo AdvantageCLUB today, it's easy and free!
Start earning now and collect points for free stays in one of our Leonardo Hotels.
Good to Know
Pets allowed:
Dogs up to 6kilo are allowed with prior approval.
Parking nearby - surcharge
Coming by car? CUCU guests have the option of parking on the lower levels (-2, -3) of the nearby Dizengoff Center Mall. Please note that this will entail a charge of NIS 75 for up to 24 hours (payment to be made at the hotel reception and not at the lot itself), and the lot is intended for extended use. When exiting the lot, please ensure you have the necessary ticket issued by the CUCU reception staff. Details on alternative parking or transport options can also be obtained from reception.
Services & Activities
Restaurant

Bar

Breakfast

Breakfast at Cafe CUCU is served Daily from 8:30 am - 11:00 am.
When not included in the room rate, the cost is 90 ILS per guest.
Bike rental

Complimentary bikes. Our bicycles are available at any time, on a first-come first-served basis (no advance reservations).

Gym
Garden

Terrace garden where guests can relax and enjoy some peace and quiet.
EXPLORE CUCU Hotel
Transportation
Ben-Gurion International Airport
13.0 km
Highlights
Dizingof Shopping Centre
250 m
Tel Aviv Museum of Art
1.2 km
Azrieli Shopping Centre
1.7 km
Sarona Open Air Commercial Centre
2.0 km
Eretz Israel Museum
3.0 km
Restaurants and Bars
It's all happening at Cafe CUCU, the resto-bar on CUCU's ground floor. Whatever the time, you'll find something to tantalize your taste buds: cook-to-order breakfasts, satisfying brunch, and cool drinks throughout the day. Once the sun goes down and the candles are lit, the cafe transforms into a gourmet restaurant by the group that brought you some of Tel Aviv's biggest names, like La Shuk and A-La Bar.
Café CUCU
Cafe CUCU, the resto-bar on CUCU's ground floor. Whatever the time, you'll find something to tantalize your taste buds: cook-to-order breakfasts, satisfying brunch, and cool drinks throughout the day