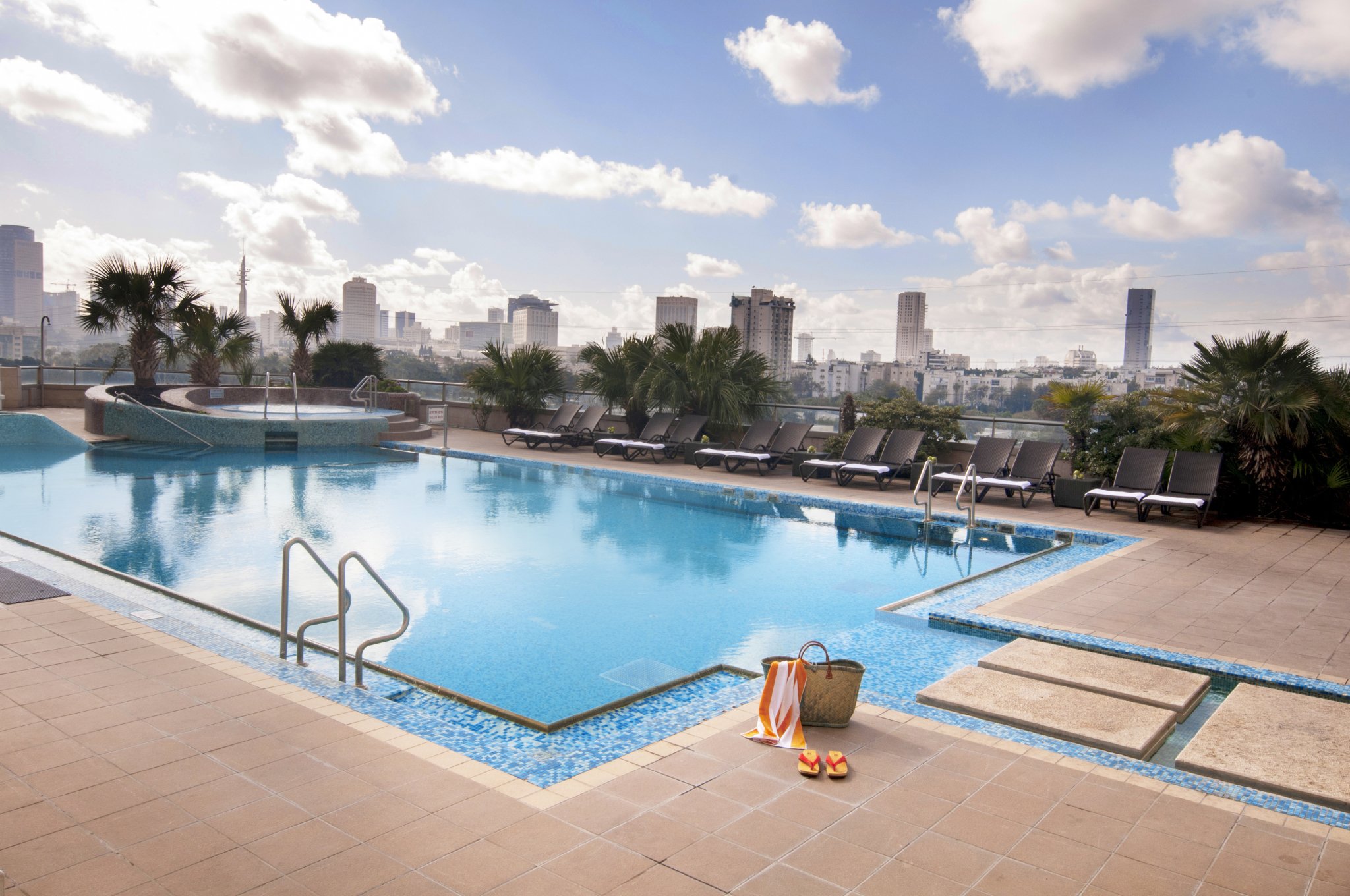 Leonardo City Tower Tel Aviv
Hotel Info
Zisman Shalom St 14, Ramat Gan, Israel, 5252903 Ramat Gan
Near the Diamond Exchange District
View map
Amenities
Free Wi-Fi
Bar
Spa
Rooftop Pool
Gym
Conferences & Events
Air-conditioning
Business lounge
About the hotel
Business hotels in Ramat Gan don't come better placed than Leonardo City Tower Hotel, right on the border of Ramat Gan and Tel Aviv. Ramat Gan is famous for its Diamond Exchange District, home to the Israel Diamond Exchange and a wealth of shopping opportunities, including the Ayalon Mall, a popular destination for locals and visitors alike.

Leonardo City Tower boasts 167 rooms, all air-conditioned and stylishly furnished, fitted with all the essential amenities that secure a stress-free stay. The City Tower SPA is an urban oasis of bliss and a sanctuary for those who need a moment away from the hustle and bustle of the city.

There's a seasonal rooftop swimming pool for those who want to recharge their batteries under the skies while admiring the striking views of the skyrises dominating the horizon. Business guests will appreciate the on-site high-tech business lounge, which offers excellent conditions for work or tête-à-tête meetings with peers. Israeli buffet-style breakfast is served daily at the hotel's Arugula restaurant while the Tapesta restaurant serves dairy specials and Italian-inspired meals, along with hot and cold beverages till late evening.

There's plenty to do in Ramat Gan. The city has a wealth of museums and galleries, while the Ramat Gan National Park and the Zoological Centre Tel Aviv-Ramat Gan, known colloquially as Safari Ramat Gan, are must-see attractions. With escape rooms and educational exhibitions, the Man and the Living Museum is a Ramat Gan destination for the entire family.

Many cultural landmarks of Tel Aviv can be reached in less than 15 minutes by car too, for example, the Eretz Israel Museum, the Israeli Opera, and the Tel Aviv Museum of Art, meaning that a stay at Leonardo City Tower gives you a significant location advantage, especially considering that the Ben Gurion Airport (IATA: TLV) is about 30 minutes drive from the hotel.
With eight conference and event halls, all equipped with up-to-the-minute technology and free Wi-Fi throughout, Leonardo City Tower Hotel is a premier choice for business meetings of all kinds.
Hotel Gallery
1 / 25 | Leonardo City Tower Hotel Tel Aviv - Rooftop Pool
Rooms
A stay at Leonardo City Tower Tel Aviv is a comforting indulgence. The hotel has 167 rooms designed to satisfy business and leisure travellers alike. Each has air-conditioning and free Wi-Fi, as well as other convenient amenities, including in-room entertainment, toiletries, and coffee and tea making facilities.
Book Direct And Get 10% Off
Join Leonardo AdvantageCLUB today, it's easy and free!
Start earning now and collect points for free stays in one of our Leonardo Hotels.
Good to Know
Check-in:
Sun - Fri: 3:00 pm Sat and Jewish Holidays: 6:00 pm
Check-out:
Sun - Fri: 11:00 am Sat and Jewish Holidays: 4:00 pm
Parking nearby - surcharge
Services & Activities
Breakfast buffet

Restaurant

Lobby bar
Rooftop Pool

Spa

Massage & beauty treatments

Hot Tub

Sauna

Gym
24-hour room service

Airport shuttle (surcharge)

Laundry service

Welcome Baby

Ironing service
Business lounge

Conference technology

Banquet halls
Pets are not allowed - guide dogs only
EXPLORE Leonardo City Tower Tel Aviv
Transportation
Tel Aviv-Savidor Center Station - Israel Railways
180 m
Ben-Gurion International Airport
20.0 km
Highlights
Azrieli Shopping Centre
1.7 km
Ramat Gan National Park
5.5 km
Man and the Living Museum
6.0 km
Companies / Exhibition grounds
Tel Aviv Convention Center
3.0 km
Restaurants and Bars
Whether you are in town for work or for a holiday, you should visit Leonardo City Tower's Arugula restaurant. Begin your day with a rich dairy breakfast buffet at the restaurant. For Friday nights' dinner, Arugula restaurant serves a meat and fish buffet, some dishes are prepared in front of the guests. During the day, guests can also visit the lobby's Tapesta Restaurant, an Italian restaurant serving light meals, desserts, and drinks.
Arugula Restaurant
Arugula is the hotel's main restaurant and it serves a daily dairy breakfast buffet throughout the year. Enjoy a selection of cheeses, fish, salads, quiches and much more. Have a cup of coffee or orange juice, as well as fresh pastries. On Fridays, the restaurant also serves dinners. For dinner, you can enjoy meat, fish and vegetarian options, including some Israeli specials.
Tapesta Restaurant
Next to Arugula Restaurant you will find the hotel's Italian restaurant, Tapesta. Tspesta's dairy Italian menu includes pastas and pizzas as well as salads, fish dishes and desserts. You can enjoy a hot beverage or a soft drink as well as a cocktail, and other alcoholic drinks.
Tapesta is the right place to find some peace and quiet in-between business meetings. The serene atmosphere and delicious food make Tapesta very popular among the Leonardo City Tower guests.

Meetings & Events
The perfect ambience for any occasion: the spacious conference area with its 10 function rooms offers the ideal place to organise and host your event - from conferences, meetings and seminars to company presentations and festive balls. The professional event team supports you with planning, preparing and realising your event and compiles an individual offer in order to meet your needs.

Find out more