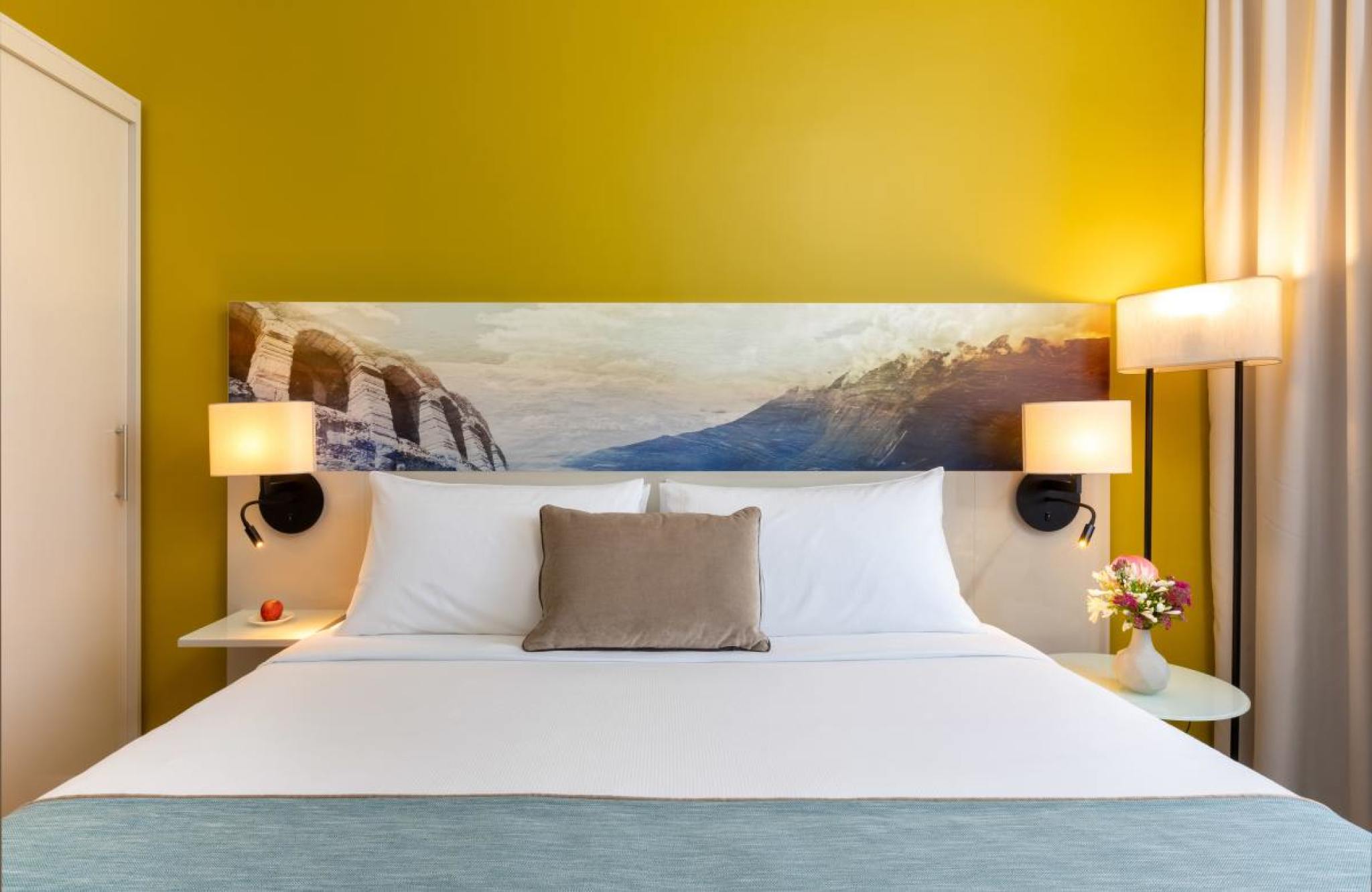 Guest Reviews
Mi trovo spesso a Verona per lavoro e tutte le volte soggiorno in questo Hotel. Le camere sono molto comode, pulite e ben insonorizzate. La colazione è ricca, con prodotti di ottima qualità e sempre freschi. All'interno dell' hotel è presente un ristorante che permette di cenare soddisfando ogni esigenza. Si va dai panini gourmet (veramente molto buoni e abbondanti) fino hai tagli di carne più prelibati. In ultimo, ma più importante di tutto, lo staff è molto cortese e disponibile. Sono sempre pronti a rispondere ad ogni necessità del cliente. Sanno essere molto professionali ma allo stesso tempo non manca mai la battuta o la chiacchera che, anche se viaggi per lavoro e da solo, ti fa sentire ben meno distante da casa. Consigliatissimo
Es gibt Raum für Verbesserungen."
Erstens, um ein weniger anspruchsvolles Bild zu vermitteln. Weniger ist mehr, wie man hierzulande sagt. Vor allem, wenn es nur noch ein Bild ist. Der Empfang, perfekt. Das Zimmer, hier gibt es viel Raum für Verbesserungen. Die Möbel sind von guter Qualität, aber schlecht verteilt. Der Tisch ist nicht, nur ein Regal. Es gibt keine Möglichkeit, dort zu arbeiten, ein Computer passt nicht hinein. Die Matratze... nun, sie könnte zweifellos besser sein, ebenso wie die Kissen. Und wenn es zwei wären, wäre das schon eine Verbesserung. Der Vorhang im Badezimmer... mit dem ganzen gelben Rand macht keinen guten Eindruck. Eher lausig. Und die Höhe der Badewanne ist meiner Meinung nach zu hoch. Ich war bei der Arbeit, nicht beim Bergsteigen. Frühstück, die Qualität des Brotes muss verbessert werden. Entweder trocken, oder in Scheiben geschnittenes Brot... Sie entspricht nicht dem, was sie eigentlich zeigen soll. Die Nestlé-Kaffeemaschine... schlecht. Das Abendessen habe ich schon geschrieben, aber das muss dringend verbessert werden. Und die Speisekarte mit einem QR-Code lesen zu müssen... Ich mag es nicht, das Telefon am Tisch zu benutzen, das ist geschmacklos. Das Personal ist sehr höflich und steht bei Bedarf ständig zur Verfügung.Ich denke, dass es trotz einer insgesamt guten Leistung in einigen Bereichen noch Raum für Verbesserungen gibt.
Una vera "casa" accogliente ed efficiente per un soggiorno di lavoro a Verona"
Hotel accogliente e funzionale, arredato con gusto e curato nei minimi dettagli. Si percepiscono tangibilmente l'attenzione rivolta ad ogni ospite e l'affiatamento di tutto lo staff che lavora con impegno e professionalità.
Ottima struttura, ben gestita, pulitissima. Personale molto gentile e disponibile. Sicuramente da consigliare. Torneremo sicuramente.
Hotel molto buono personale competente e cordiale ottima colazione, lo consiglio.
Good to Know
Check-in:
2:00 pm
According to the local regulation children must provide an ID for check-in.
Private underground parking:
surcharge, reservation is not possible
Services & Activities
Breakfast buffet:

12 € per person

Mon - Sun: 7:00 am - 10:30 am

Restaurant

Lunch:

Mon - Sun: 12:00 noon - 14:00 pm

Dinner:

Mon - Sun: 19:00 pm - 22:30 pm

Bar

»Leo's Bar«

Mon - Sun: 7:00 am - 11:30 pm
Bike rental

Sky TV channels

lounge room in the common area
Car rental

Luggage storage

Room service:

Laundry service

Ironing service

Wake-up call
Business centre

Meeting rooms

Newspapers