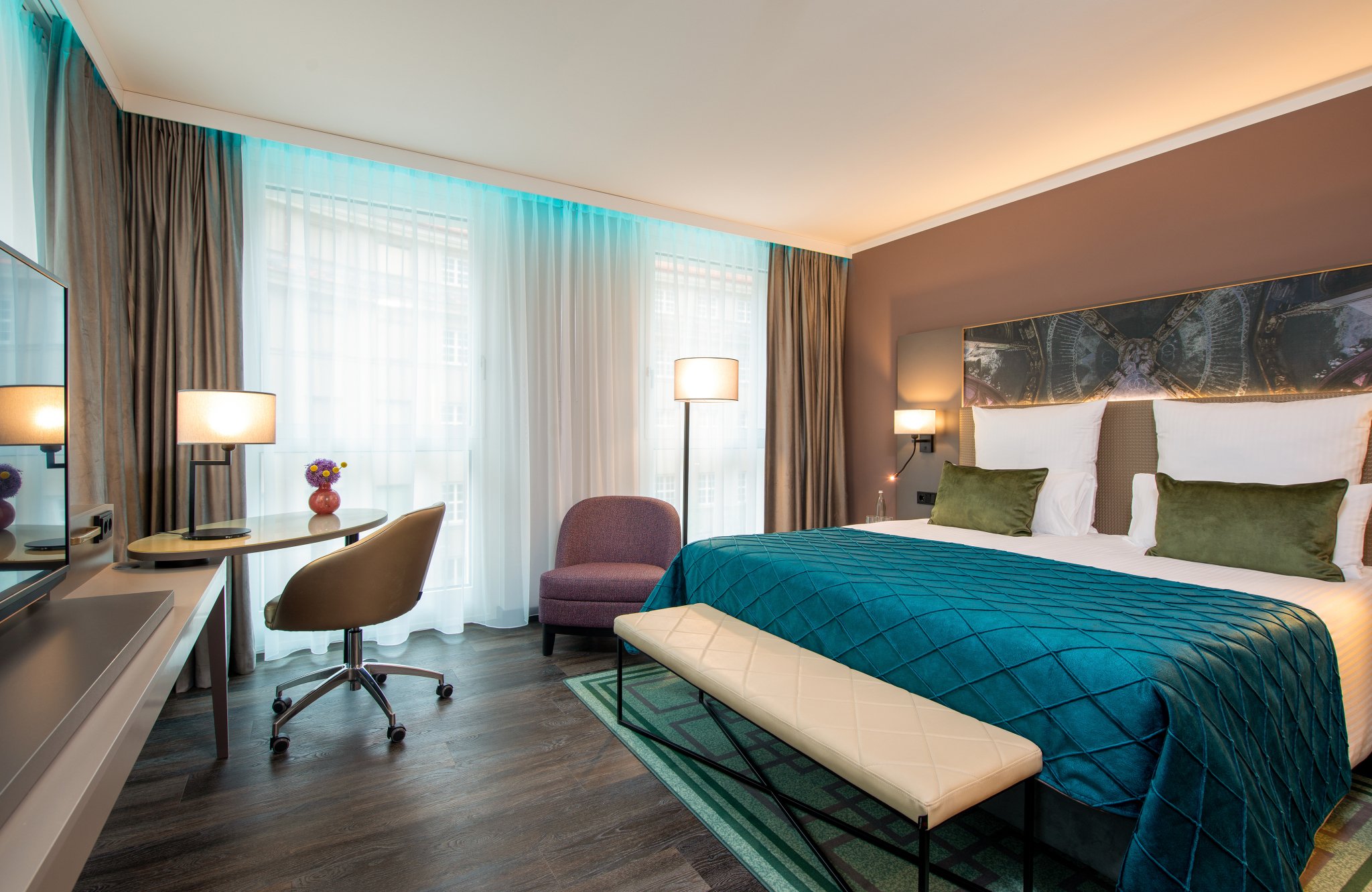 Leonardo Royal Hotel Nürnberg
Guest Reviews
Comfortable room. Convenient to city and public transportation
Top-Hotel nur leider mit Sound vom Bahnhof aber Altstadt-Nähe"
Super-Zimmer in Ausstattung und Sauberkeit. Frühstück reichhaltig. Personal freundlich. Die Bar mit interessanter Whisky-Ausstattung !!! Leider hat die Bahnhofsnähe und der Blick auf die Bahnsteige für Belästigungen bis 1 Uhr und ab 5 Uhr bei geöffnetem Fenster gesorgt. Dafür 10 Minuten Fussweg zum historischen Stadtkern. Problem war auch die Nutzung des Parkhaus. Verschlossenes Tor bei Einfahrtversuch mit Dauerparkkarte. Zum Glück war jemand per Sprechanlage erreichbar, der geholfen hat. Die Beschilderung und Informationen sind rar.
Die Bar, ist zum ganzen Rest, der Hammer!!!"
Zentral gelegenes Hotel. Überdurchschnittliches, gutes Personal! Zimmer klein, aber fein. Klasse Betten 😉
Top Business Hotel in der Innenstadt von Nürnberg. Das Personal war superfreundlich und hat sofort angeboten ein Lunch-Paket zu richten, da ich sehr, sehr früh abreisen musste. Dieses war sehr lecker. Danke! Zimmer war sauber, nett eingerichtet. Alles bestens!
Great location close to the central train station and Christmas Markets. Appreciated being able to store luggage after checkout. Very helpful team.
Wie in den Fragen wiedergegeben."
Anreise und des Hotels und Parkhauses ungenügend und erschwerlich. Hält mich davon ab, das Hotel weiter zu empfehlen bedauerlicherweise. Wozu Kaution, wenn die Rechnung bereits bezahlt wurde.
Good to Know
Private underground parking:
€18 per day, reservation is not possible
Electric vehicle charging station
Services & Activities
Breakfast buffet:

€23 per person*
Mon - Sun: 6:30 am - 10:30 am

Restaurant

Mo - Sa: 6.00 pm - 10:00 pm

Bar

Bar opened until 1:00 am
Kitchen opened until 11:00 pm

Baby cots

Fax/photocopying service

Luggage storage

Room service

Safety deposit box at reception

Laundry service

Ironing service
Business centre

Meeting rooms