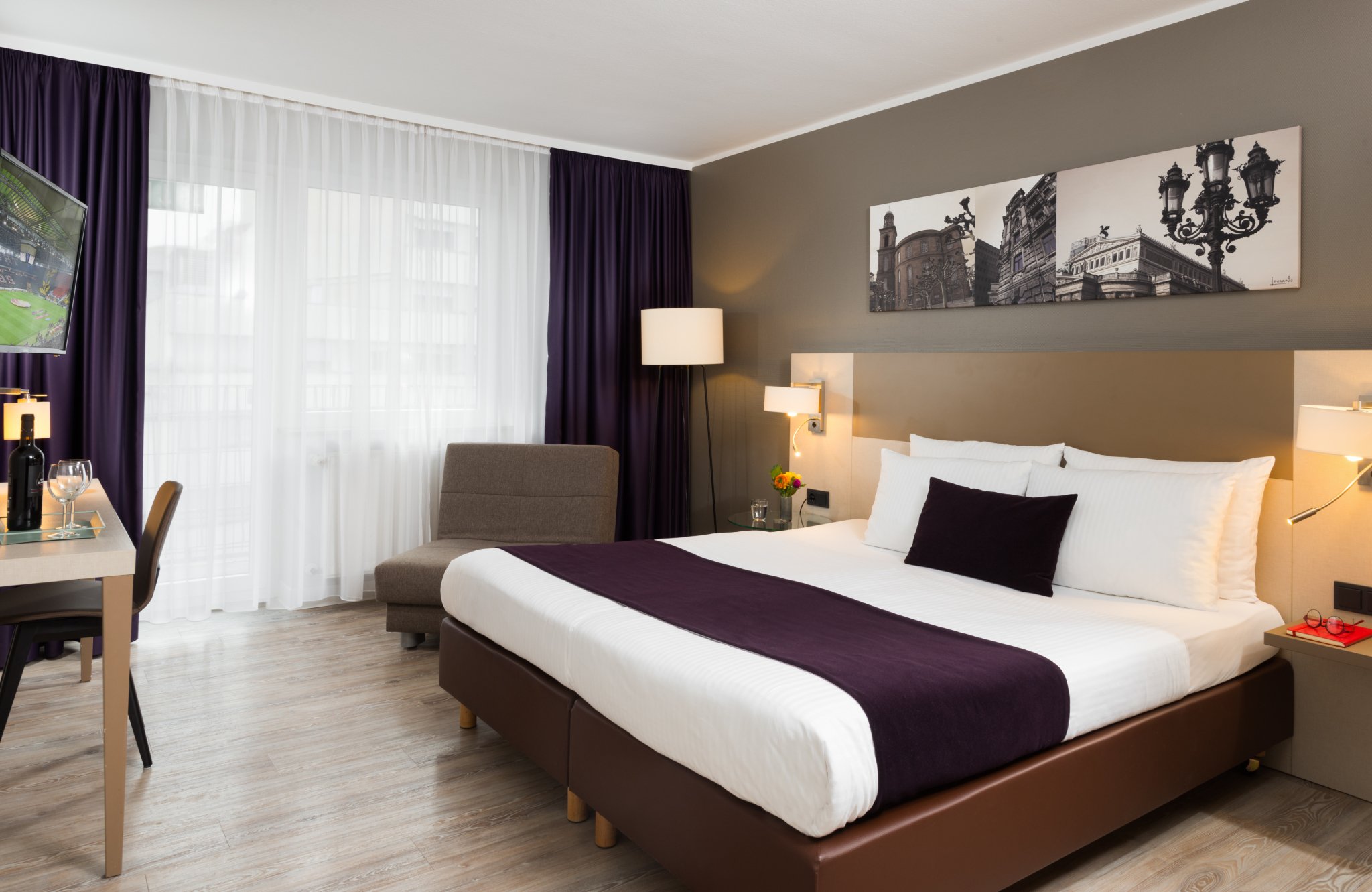 Leonardo Hotel Frankfurt City Center
Guest Reviews
Muy buena opción cerca de la estación central."
Inicialmente me ofrecieron una habitación mucho más pequeña que la mencionada en el anúncio de Hoteles.com, pero al quejarme, me dieron una igual a la del anuncio. La habitación definitiva estaba muy buena, pero la que me dieron inicialmente era muy pequeña.
Für eine Städtereise super"
Ich war mit meiner Tochter ein Wochenende dort .Lage ist super. Personal ist sehr freundlich , Parkplatz ist günstig aber es geht sehr eng zu in der Tiefgarage. Frühstücksbuffet ist überschaubar , dürfte gerne etwas mehr Auswahl geben aber das ist Corona geschuldet. Würde das Hotel wieder buchen
Stadthotel in belebter Bahnhofsnähe, Ansprüche erfüllt"
+ zentrale Lage + freundliches Personal + Zimmerwunsch wurde umgesetzt + Klimaanlage + aufgrund der auch nachts "belebten Gegend", stehen Ohrstöpsel zur Verfügung Zimmerpreis musste sofort bezahlt werden, nicht wie üblich erst beim Auschecken - Fenster im Zimmer waren auf Innenseite verschmiert - kein Kofferabstellraum vorhanden. Standen etliche im Flur des Eingangsbereiches ungeschützt herum. Fazit: würden dort wieder übernachten!
From the moment we arrived at the hotel everything has been excellent. The hotel is in an excellent location for visiting all the many museums, shops and everything else Frankfurt has to offer. The staff are all brilliant, especially Julia and Maya!☀️ So very helpful and friendly and nothing is too much trouble for them. We will definitely be back later this year, for the Christmas Markets!
wieder ein sehr positives Erlebnis"
wie immer habe ich mich bei Ihnen sehr wohl gefühlt und wurde bestens betreut. Vielen Dank!
Für eine Nacht völlig ausreichend und die Nähe zur Bahn unschlagbar"
Eine Nacht gebucht zur weiterreise, trotz Innenstadt sehr rugiges Zimmer gehabt. Vielen Dank.
Good to Know
Private underground parking:
€15 per day, reservation is not possible
Services & Activities
Breakfast buffet:

€15 per person*

Mon - Fri: 6:30 am - 10:30 am

Sat - Sun: 6:30 am - 10:30 am

Grab'n'Go Bar
Free baby cots:

Laundry service