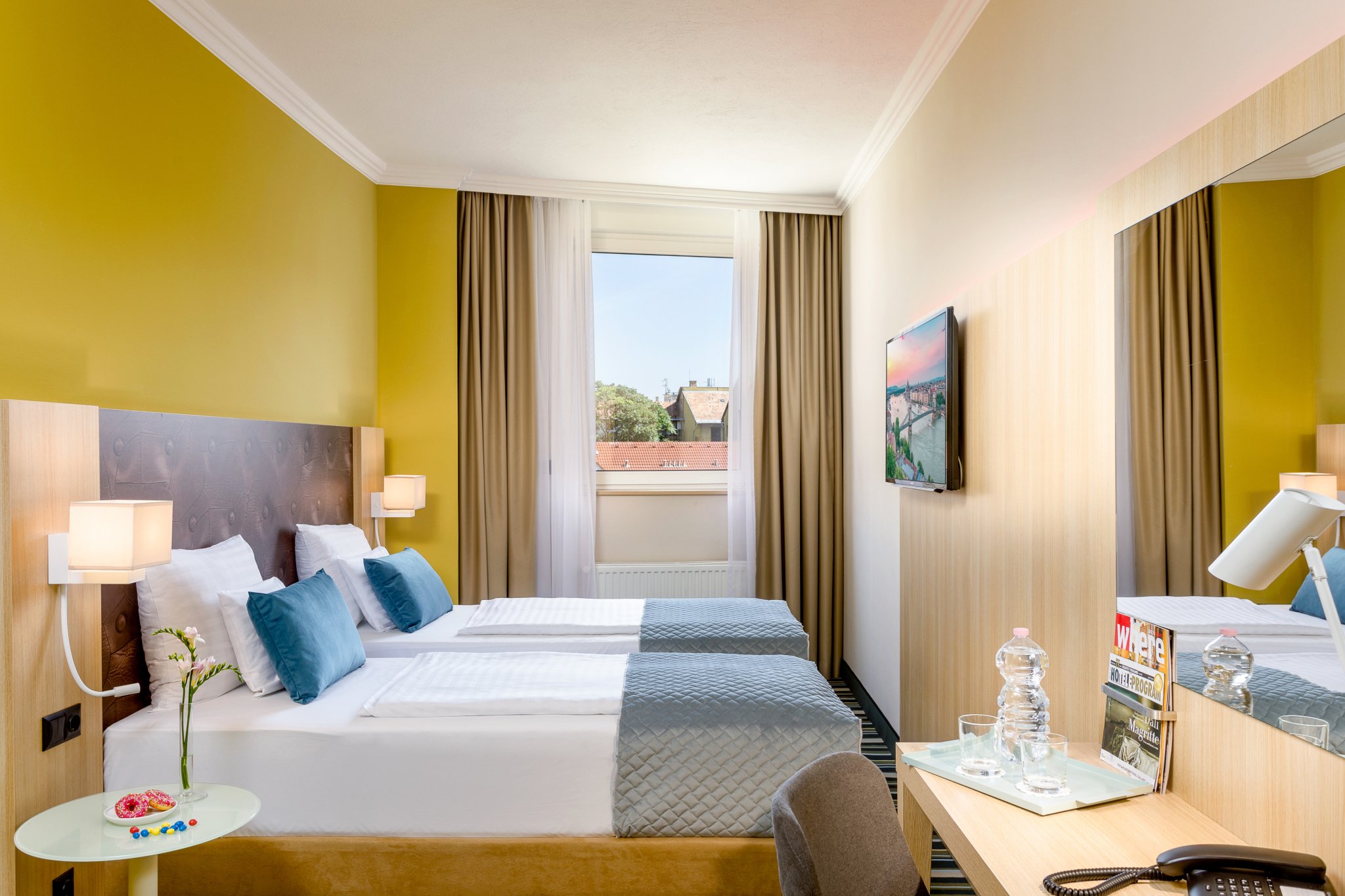 Guest Reviews
Schönes neues Zimmer aber extrem klein."
Die neuen Zimmer sind sehr schön aber extrem klein. Um das Fußende des Bettes sind gerade mal 5cm. Es gibt keinen Schreibtisch! Dafür war das Bett sehr bequem. Eines der besten Betten die ich je in einem Hotel hatte. Für einen längeren Aufenthalt ist das Zimmer wegen der Größe nicht unbedingt geeignet wenn man zu zweit ist. Letztes Jahr hatte ich ein älteres Zimmer. Dieses war wesentlich geräumiger. Das Frühstück war okay. DIe Lage ist sehr gut für meine Zwecke. Es gibt viele nette Lokale rund um das Hotel.
La prima camera assegnata aveva l'impianto di climatizzazione guasto e quindi si moriva di caldo,questo aspetto non dovrebbe essere sfuggito allo staff e avrebbero dovuto provvedere anziché condannarci a morire di caldo.nella seconda camera assegnata andava quasi tutto bene anche se qualche lampadina era bruciata e quindi qualche luce non si accendeva.mi viene da chiedermi se controllate oppure no se le stanze sono a posto e se tutto funziona prima di assegnare una camera ad un cliente!inoltre in questa camera abbiamo trovato un lenzuolo del letto con una strana grossa macchia che sembrava sporco ma poi abbiamo capito che era una bruciatura da ferro da stiro:Anche quello poteva essere evitato se chi ha fatto le pulizie in camera avesse controllato meglio il lenzuolo.inoltre il sapone in bagno nel dispenser era finito e in tre settimane non é mai stato messo:questa é una mancanza di rispetto nei confronti dei clienti
We had a great time in this superb hotel. The whole staff was so friendly and helpful.
Our stay in Leonardo Prague"
Other than WIFI (which seemed to be absent) everything worked out just superbly. We liked everything in this hotel and staff was doing its utmost. A big hand to Prague Leonardo, thank you for making our stay memorable and we were even assisted with our baggage and got good tips to Prague local places by check-in man during very late monday evening.
Fit for purpose, friendly and cute hotel! Outskirts of the city but we loved the location."
Would return. Loved the quirky large chairs!! The hotel could do with some updating in the rooms but overall very good, staff more than helpful.
hôtel très agréable, bien placé à Budapest, rue sympa et personnel attentif."
tout m'a plu; style de la salle de bains très agréable. Mais je suis une personne âgée, dur de sortir de la baignoire.
Good to Know
Private underground parking:
€17 per day, reservation is not possible
Services & Activities
Breakfast buffet:

€10 per person*

Mon - Fri: 6:30 am - 10:00 am

Sat - Sun: 7:00 am - 10:30 am

Restaurant

Mon - Sun: 12:30 pm - 10:30 pm

Bar

Mon - Sun: 12:30 pm - 10:30 pm

Grab'n'Go Bar

Hummus Bar & Bistro

Mon - Sun: 12:30 pm - 10:30 pm
Laundry service

Wake-up call

Room service:

Fax/photocopying service
Newspapers

Meeting rooms

Virtual entertainment

Banquet halls

Adapters/Chargers